Your device will contain media and files of all kinds that you don't want prying eyes seeing. Maybe it is a sensitive data or you don't want a file leaked, it is needful in these cases to hide these files. Android doesn't have a default app for hiding data but there are third-party apps that can do the job for you. In this guide, we explore 5 best apps for hiding photos and videos.
KeepSafe Photo Vault
KeepSafe Photo Vault is one of the best Android app for hiding photos and other media. It's a popular app that's been around for a while. You can secure photos and videos using a PIN, Pattern or fingerprint authentication. The app allows you to create folders in the app where you can hide photos, videos and more. Also, you can backup your media to Keepsafe private cloud storage. There are even advanced security functionalities that can tighten security around the vault. You can set break-in alerts, and fake login PINs.
2. Vault
Vault is another app for hiding your photos and videos. The app will hide any data you don't want in public view. The app is a popular one with over 100 million users. You can hide your media behind a PIN or password. More than just media, Vault allows you to hide apps also. Vault will let you sync your data to the cloud so you don't lose them in case you lose your phone. The app can even let you create fake vaults that will deceive prying eyes.
3. LOCKit
LOCKit is an impressive vault app. The vault app will restrict your photos, and other media from been seen by just anybody. By setting up a password, you can put a lock on your sensitive data. When you launch the app, you can select photos and videos which you can then protect with a pin code, or fingerprint. The app will require you to answer a secret question in a case you lost the password. The app also allows you to hide apps so that they are not accessed by just anybody.
4. 1Gallery
1Gallery is yet another great vault app for Android. The app works to secure your photos and videos and it can also give protection to your apps, SMS and calls. You'll have to use a pin to lock all these data so that they can't be accessed by just anyone. There's also provision for cloud backup. You can make calls from the app and even send SMS and your call log won't have the details of your calls or SMS. When someone tries to break in, a photo will be taken and the GPS address of such intruder will be noted.
5. Gallery Vault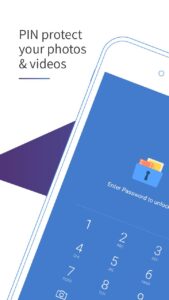 With this app, you can get all your media hidden and prevent them from been seen by prying eyes. It boasts of impressive features that keep those data safe. For example, you can prevent someone from checking what you're watching in the moment but shaking your phone when the person is approaching. There's also a feature that gets you to know an intruder that is breaking into your phone. There's also support for fingerprint authentication.
Rounding Up…
Vault Apps are essential if you really want to keep sensitive data safe. With a password or fingerprint authentication, you can restrict just anyone from accessing your data. We hope you found this guide helpful? If you did, kindly leave a comment and don't forget to share…