5 Best To-Do List Apps for Android 2021
What happens when you forget an important tasks that has a deadline? It will surely lead to stress and frustration. But you can save yourself all of that stress by having a To-Do List app. A to-do app basically lets you manage your tasks hence making you more productive. Most to-do apps have the basic functions of helping you set tasks, set reminders and organise them. Some have more juicy features than this. Want to know them, let explore the 5 Best to-do list app for Android.
1. Todoist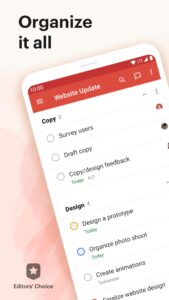 Todoist is a top-rated app for productivity. As a user-friendly app, it helps you stay organised and everything you need to do on the app can be done easily. You can know what and what to do at certain times with the app. You also notifies you of when people comment, complete their task and so on. The will alert you of your deadline and you can prioritise important tasks. It features a graph to indicate your productivity progress. If you're on a team, your team members can make comments on projects and tasks.
2. Memorigi
If you're about beauty, the Memorigi is the right app for you. The beautiful app is functional and delivers excellently. In the package are a task manager, daily planner and to-do list. Use the app to put down a list of goals, groceries to buy, create reminders, appointments, meetings, or projects. Simply track what you need to do with the app. The app boasts of the My Day feature that lets you give attention to the most important task of the day. The app can sync your data to the cloud which lets you access them on other devices. The app allows you to organise your tasks and categorise the the way you want.
3. TickTick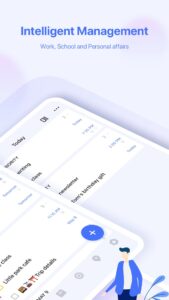 In the past, TickTick was not one of the top choices due to how it was designed. It also lacked some features, but right now, it really a solid app for productivity. TickTick not only helps you with tasks, it also helps you build better habits with its habit tool. One of the highlight of the app is the Pomorodo Timer which allows you to remain productive even when you take a break from work. You can customize the Pomorodo timer to suit your preference. With the Pomorodo timer set, you can go deep into work, and take some breaks in between.
4. Microsoft To Do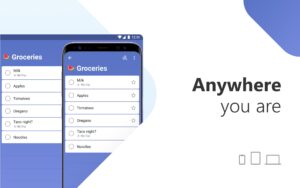 Wunderlist was acquired by Microsoft in 2015 and the name was changed to To Do. You'll still see much of Wunderlist in the app. Organisation is great as you can organise based on due dates or in a list style. You can have quick access to the add task screen and input task quickly. The app has a reminder feature that reminds you to plan your day in the morning. It features dark mode and other customisation options like a theme and icon for tasks. If you're into Microsoft, then this app would be perfect for you as it integrates well with Microsoft ecosystem.
5. Any.do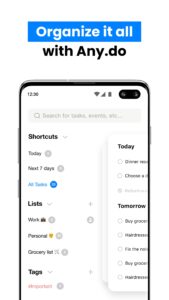 Any.do is a popular option for recording tasks. It has the essential features and even more. It has tasks, sub tasks and you can add notes to enable you remember what is meant to be done. Cloud syncing is available on the app, so you can have your tasks on your other devices. Any.do has a nice, functional interface and is easy to navigate. It also has support for Cal Calendar and you can have the two apps helping you to stay productive. Any.do is simple, yet functional and has a bonus feature: support for Google Assistant and Amazon Alexa.
Rounding Up…
If you need to stay productive and organised in our world today, you will surely need a good to-do list app. A good to-do list app has to one that works well with your phone or else you'll keep missing important schedules and appointments. The apps in this article will do justice to that. We hope you found this helpful? If you did, kindly leave a comment and don't forget to share.