Before the social messaging apps like WhatsApp and Telegram came, SMS was what was in vogue. It was one of the major ways people communicated apart from calls. Even now that WhatsApp and the likes have now taken over, SMS is still in use. It may be a traditional form of communication, but it is effective. In this review, we cover the 5 best SMS apps for Android…
1. Google Messages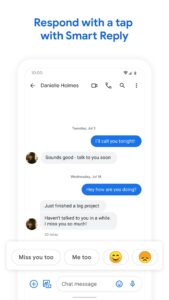 Google Messages was formerly Android Message and it is a great SMS app for Android. It is a light, simple app that makes sending message easy to do. It has a bunch of theming options. Google Messages also boasts of backup features. It is built based on Material Design. Google boasts of other features including RCS support. Google Messages also works on the web so you text from your computer.
2. Chomp SMS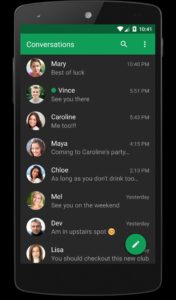 Chomp SMS is an excellent SMS app. The app has been around for a while now and it is one of the top choices when it comes to SMS apps. The app features an array of features including passcode lock, quick reply pop-up and more. It also supports group messaging, MMS, SMS blocking and more. The app can let you change notification LED colors, vibrate patterns for various senders.
3. Handcent Next SMS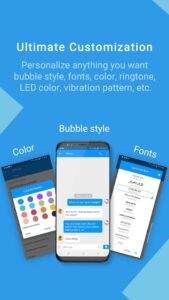 This app has also been long in the SMS game. With it on your Android device, you can text with the array of features. It has a great look with an easy to use interface. It boasts of an excellent built-in spell checking, group texts, and password protection. There also support for eCards, backup of text messages and free calls over the internet. There's also a privacy code that you can only open with a unique code.
4. QKSMS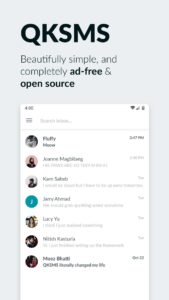 Another great app for texting is QKSMS. QKSMS works with SMS, MMS, and group chats. It is secured with end-to-end encryption. QKSMS lets you keep track of messages and know when they are delivered. The app can also allow you to backup your message. It also has the scheduling feature that allows you to set messages go be sent at a specific time.
5. Pulse SMS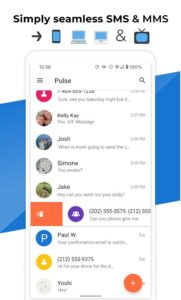 Pulse is an outstanding SMS app. The app is specially suited for business people. It has great features that give great experience. You can customise the app to suit your needs. There's the ability to select from a wide range of themes, sound effects, and GIFs. Pulse SMS also allows you to send quick smart replies which can be very handy in some situations. It works across mobile and web platforms also.
Rounding Up…
SMS is a great way of communicating. Whether you are in a place without internet connection or you have issues with calling, using an SMS app can be the life saver. If you found this guide helpful, kindly leave a comment and don't forget to share…