There were days we could only shoot quality videos on high-end cameras. But those days are gone now with smartphones advancing in hardware technology. Not only can smartphones take quality videos, they can also process and create slow-motion videos.
Slow-motion videos nowadays are very popular. With video-sharing apps like TikTok, many creators use slow-motion to entertain their fans. You can also create your own slow-motion videos, and there are apps for it. In this guide, we will show you the 5 best slow-motion apps for Android…
1. Slow Motion Video FX
Slow Motion Video FX is a very impressive slow motion app for Android. The app has solid features for converting already recorded video to slow motion video or shooting a video in slow motion. The app has a simple interface. By just tapping the "Start Slow Motion" button, you can choose if you want to record a slow-mo video or convert an already saved one. After selecting your video or shooting your video, you can decide how you want the speed of the video to be. There are two range of values of speed between 0 to 1. When the speed is moved closer to zero, the video will be slower. It will be faster when it is set closer to 1.
2. Hudl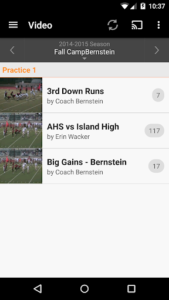 Hudl is a slow motion video app that is targeted at sports. With the app, you can shoot your sport performance and make it into a slow-motion video. This is useful when you want to analyse your performance. You can analyse your video frame by frame. It also has the zoom feature to enable you look into details of your performance. The app allows you to record your video in high-quality. What's more, Hudl allows you to work on two videos at the same time for more efficient analysis. You can also import videos from your cloud storage, like from Google Drive or Dropbox.
3. Coach's Eye
Another app for monitoring sport performance, Coach's Eye is a brilliant app that helps you to produce videos in slow motion speed. Not only can you use it for Sports, you can use it for any other type of performance, from dance to acting. You can use the app to record videos for a particular action, and later look at it analytically. After making the slow-motion videos, you can then look at the performance frame-by-frame and see details of your performance. You also have the option to add voice-overs into the video. There's even a 2GB cloud storage space on its free version, and even much more on its VIP version.
4. Slow Motion Camera
Slow Motion Camera is another slow motion video app for Android. The app has a nicely-designed interface with sets of impressive features. You can either make a slow motion video by using the camera to shoot live or uploading from your phone's gallery into the app. It boasts of post-processing tools that will enable you crop, trim, apply effects and do other edits to the video. You can also reverse and loop videos to make them more interesting. Overall, the app packs great slow motion video features in a intuitive and user-friendly interface.
5. AndroVid
Another great slow-motion video making app is AndroVid. AndroVid does a great job at making slow motion videos. Not only that, it can reverse your videos to make it more exciting. You can use the frame grabber feature in the app to extract a specific frame out of the whole video to analyse. There's also the capability to convert the videos into GIF. The app works well in converting video into various formats such as 3GP, AVI, FLV, MPG, MP4, WMV, MOV, and VOB formats. You can either go for the free version or the paid version (which has more features).
Rounding Up…
Whether you're in sports or you just want to entertain your friends, slow motion videos provide you with the details you wouldn't see in a normal speed video and with these apps, you can create a nice slow-motion video. We hope you found this guide helpful? If you did, kindly leave a comment and don't forget to share…