Our mobile devices are what we use mostly these days because they are convenient and easy to carry around. But more often than not, the downside of our mobile devices shows up when we need bigger screens. This is where our desktop computers and TVs show their strengths. However, with screen mirroring apps, we can use our mobile devices to stream content to our PC. So whether you want to enjoy a game or movie on PC or TV, you can do so with screen mirroring apps. In the guide, we cover 5 best screen mirroring apps for Android…
1. Mirroring 360
Mirroring 360 is one of the best screen mirroring app for Android. It has some of the best screen casting features. The app allows you to mirror your Android device to your Amazon Fire TV, Fire TV Stick, Windows PC, Mac, or Android devices. You can mirror your presentations straight to your preferred devices. The app will help you in a classroom to show your screen on a whiteboard through your computer. What about when playing games? You can easily show your game performance to others on a big screen. Not only that, you can watch a movie that's on your phone right on your PC or TV screen with Mirroring 360.
2. LetsView
Another useful screen mirroring app is LetsView. The app helps you to cast your Android screen to your PC. It not only mirrors, it can also record. LetsView has a top notch video quality and responsiveness. You can enjoy video and audio streams from your Android phone. You don't even need any cables. With the app, you can watch videos and play games on your bigger screen. The app supports various devices including computer, projector and smart devices. LetsView can work with various Live Streaming services like Instagram, and YouTube so that you can broadcast your gaming session with friends. You can also view documents that are your phone live on your PC or TV.
3. Microsoft Remote Desktop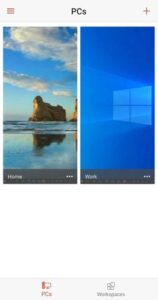 Microsoft Remote Desktop is also one of the best screen mirroring apps for Android. The app works seamlessly with Windows PC and provides a multi-touch experience to control your PC. With the app, you can access resources on your Windows operating system. You can even view files, videos, photos and work with contacts and accounts. Microsoft Remote Desktop works with Windows Professional or Enterprise and Windows Server. The app provides secure connection with your data protecting you from breaches. You can make use of the audio and video streaming features to watch and listen to media files from your Android device on your PC.
Download Microsoft Remote Desktop
4. Wondershare MirrorGo
This is one of the best screen mirroring apps for Android. The app is packed with many features and works excellently on Android. With Womdershare MirrorGo, you can cast your Android device screen to your PC or TV. What's more? You can even transfer files from your Android device to your PC or control your Android phone with a PC. MirrorGo even lets you transfer photos, videos and files from your phone to PC, and you will be able to do this wirelessly. The app functions without any lag occuring and this makes you enjoy the games and movies on the bigger screens. You can enjoy games more by tapping every key from the screen to your computer keyboard.
5. ApowerMirror
ApowerMirror is a powerful screen mirroring app. The app can work between an Android device and PC with various options for mirroring. You don't need cables to use ApowerMirror as it will enable you to connect wirelessly. Not only that, your audio and video will sync properly. ApowerMirror can allow you to mirror from phone to phone, phone to PC, phone to TV, PC to phone and more. With ApowerMirror, you can view contents that are on your phone right from your PC. You can even control your phone using your computer keyboard. ApowerMirror also allows you to record everything going on the screen while mirroring.
Rounding Up…
You don't have to worry when your friends come around to have fun with you while watching a movie or playing a game. With the screen mirroring apps above, everyone can enjoy the fun. We hope you found this helpful? If you did, kindly leave a comment and don't forget to share…