5 Best Recording Apps for Android 2021
Recording in the good old days was a cumbersome process. You needed a dedicated device to do that, but not anymore. Just as you can use your smartphone to do a lot of things, audio recording is also included. Most Android phones come with a stock recording app but this is not always enough. There's a greater chance that you need more features and that's where third-party come in to fill this need. In this article, we explore 5 best recording apps for Android.
1. RecForge II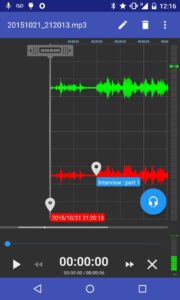 It you want a voice recording app that gives you freedom to customize, then you should try out RecForge II. The app is bundled with a variety of features including support for sample rates, bitrate, and mono/stereo options. The app doesn't just work with your phone's built-in mic, you can also use various external microphones like RODE SC6, iRig Mic, iRig Cast, etc with it.
Various audio formats are also supported on the app including MP3, M4a, Ogg, WMA, FLAC, Speex, and more. You can even monitor frequency level, thanks to real-time audio visualization. You can record right from your home screen using the app's widget. You can record and have the process running in the background while you do other things.
2. Smart Recorder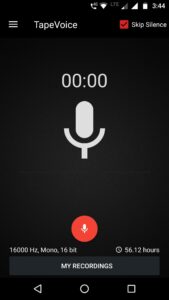 To record high-quality audio, you should try out the Smart Recorder app. A voice recording app for Android, the app comes with features that will enable you record efficiently. With a huge number of downloads of the app, you can tell it's a great one. The app will give you the ability to record great audio even in imperfect environment.
You can have access to the app's Live Audio Spectrum Analyzer which lets you monitor frequency levels, automatic and manual sensitivity in Slip Silence mode. Smart Recorder lets you have freedom over the control of recording. One bonus feature is the Wave Lock feature that doesn't allow your phone to enter sleep mode when recording.
3. Easy Voice Recorder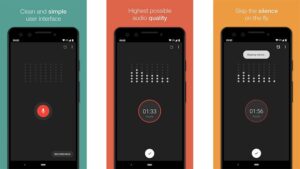 Easy Voice Recorder is another great voice recording app. The app has a neat interface that makes using it straightforward. You can easily record, organise and share your recordings. With 16-bit PCM and MP4 audio codecs, you can be sure of quality recording. This app doesn't have restrictions in place as regards recording, so you can be rest assured that you have full functionalities in the Pro version.
It has support for Android Wear OS enabling you to record from a smart watch. Bear in mind that the top features are only reserved in the Pro version. So you'll need to pay to get that. These Pro features include clip trimming/editing, Bluetooth microphones support, AAC and MP3 codec support among others.
4. Voice Recorder Pro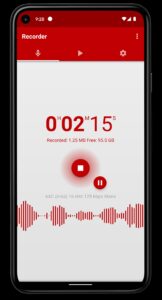 The Voice Recorder App does the job well whether you're recording a lecture, or an interview. It allows you to record audios easily and also monitor frequency of sound with the Audio Spectrum Analyzer. You can go off the app and go to other places on your phone and the app will keep recording.
You have the ability also to share your audio files easily with the robust sharing options. You can easily share you audio to email, WhatsApp, Messenger right from the app. What's more, it features a microphone gain calibration tool and you can make adjustments to the sample rate.
5. Hi-Q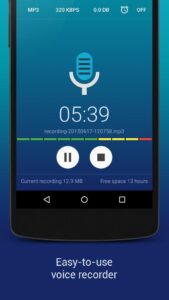 This is another voice recorder suitable for notes, lectures, meetings, interviews and pretty much anything you want to record. You can record in MP3 if you want your recording to be easily shared as a music file. There's support for WiFi transfer and Dropbox.
The app records audio in a decent quality and this depends on the quality of your phone's microphone as well. If you want more features, then you may want to try out the premium version of the app.
Rounding Up…
When recording your voice or a guitar sound, you'll want a recording of good quality. Although phones may not be able to record sound of studio-quality, you still get something close with the apps listed here. We hope you found this helpful? If you did, kindly leave a comment and don't forget to share.