Music is one of the medium by which we entertain ourselves. It also helps us to relax and can even inspire us. There are various ways to listen to music. You could use a music streaming app, an offline music player or if you like the classic way, you can use a radio app. The beauty of the advancement in technology is that many radio apps allow you to stream radio online. This makes it possible for you to listen to music, podcasts from all over the world. In this guide, we explore the best radio apps for Android…
1. iHeartRadio
iHeartRadio is one of the best radio apps for Android. It has a robust collection of stations, channels, and podcasts. Music lovers will like this app as there are tons of music played by many stations. There is also a wide range of playlists. You can listen to AM/FM radio stations around you on the iHeartRadio app. The app also works great for sport lovers as you get live updates and commentary on sport happenings. You can get updates from stations like ESPN radio and FNTSY Sports radio. There are also channels for breaking news, and comedy shows. iHeartRadio allows you to create your own music stations by curating the music you love. You can discover many podcasts on the app, follow them and even download them.
2. myTunerRadio
Another really good radio app is myTunerRadio. The app is beautifully designed and has a good user interface. It boasts of 50,000 radio stations from over 200 countries. You also have access to podcasts, and internet radio. The app has the Nearby feature that lets you discover radio stations nearest to your area. You can even discover stations outside your area by searching for them. It has support for Chromecast too. It has other cool set of features. For example, you can set an alarm that wakes you up by playing your favourite radio station. You can set up sleep timer, and also play radio stations in the background.
3. Tune-in Radio
Tune-in is a great radio station that Android users will love. It features variety of themes such as news, sports, comedy and among others. There are tons of music played by radio stations which you will find in the app. There are a variety of news sources you'll find in Tune-in such as CNN, News Talk, CNBC, and more. The local stations too will provide you with news. There is also a hosts of podcasts that you get. You can discover new podcasts or popular ones. There are also music stations with exclusive music from popular artists and DJs. You can also listen to FM, AM and internet radio stations from the app. They also have radio stations that cover sport such as football, basketball, and so on.
4. Radio.net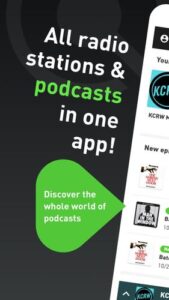 With Radio.net, you get over 30,000 radio stations from around the globe. The app has a great design with a intuitive user interface. It has an powerful search engine that lets you get access to radios easily. You can search for stations by country, city, genre and more. You can also use the favourite option to like and save songs you enjoy. The app also has an alarm clock that wakes you up with your favourite radio station. It also boasts of an interesting feature known as 'Similar Stations' which will suggest stations that are similar to each other.
5. AccuRadio
AccuRadio is a decent online radio app with tons of online radio stations on the app. The app features popular channels and you can also discover new channels. You can search through radio stations through the search feature. There are over 50 genres that are available on the app. The app allows you to save your favourite music channels and browse your listening history. Not only that, it boasts of unlimited song skips. Also, you can share your favourite channels and songs to your friends.
Rounding Up…
The best radio apps gives you access to the best of stations, podcasts and music. With this in mind, you want a solid radio app on your Android phone, and this guide did justice in providing the with the 5 best radio apps for Android. We hope you found this helpful? If you did, kindly leave a comment and don't forget to share…