We are in the digital era where we don't have to do things manually anymore but with various digital tools, we can do things better, faster and more efficiently. There were days where we could only write was on paper. But those days are no more as there are now powerful note taking apps on our smartphones that are not only convenient, but has many features that delivers excellently. In this guide, we explore the 5 best note taking app for Android.
1. OneNote
OneNote is from Microsoft and is one of the most powerful note taking app on the market. OneNote is easy to use on Android has a host of capable features. You can write, draw and handwrite on the app. It has decent organisation functions which you can use to sort notes by labels or tags. OneNote even lets you scan paper notes and you can search for them within the app. OneNote works cross-platform and data is saved to the cloud. This means what you do in the app on one platform can be retrieved and worked on on another platform. Not only does OneNote work on Android, it also works on iOS, Windows, and Mac. There are also collaboration features in OneNote and it will allow you share your notebook with anyone you want.
2. Evernote
Evernote is a solid app for note-taking. This app has been on the market for a long time and it has been serving people. It is an all-round option for anyone who is serious about note-taking. Evernote will allow you to add texts, images, audio clips, PDF documents, emails, websites and more. Whether you want the app to note down your task list as a voice memo, or you want to scribble something important quickly so you don't forget, Evernote is capable. Evernote has a robust sorting system. You can easily organise your notes so that they are neat and easy to find. When creating a new note, you can navigate to the bottom of the screen, and add tags. It even has a search functionality that is very powerful. You can upload the image of a paper document and Evernote extracts the text so that it can easily be searched.
3. Notion
Another brilliant note-taking app is Notion. The app is used by professionals to take notes and organise their professional life. Notion can be used as basic note taking app on Android, but it performs more than just 'basic'; it is powerful. The app has templates you can work with that can be used to create different types of note document. You can add calendars, dashboards and many more things. Every new note you create is known as a page, and everything in Notion is called a block. Blocks include various elements such as text, checklists, headings. Media files aren't left out like images, video, audio, code snippets.
4. Google Keep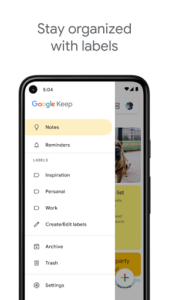 Google Keep is a simple app without too much distractions. The minimalist and simple interface puts the main and necessary note-taking features in front of you. It even has advanced features that can step-up your note-taking game. These features include voice recording, reminders and collaboration features. It doesn't have the fancy features like complex graphs and documents annotations, but it does a pretty good job with the features available. Google Keep has dark mode which is very useful at night when you wake up in the middle of the night to jot down an idea. It is simple, free to use and does its work well.
5. Zoho Notebook
Zoho Notebook is another capable note-taking app. The app may not have all the features that exists in more powerful options like Evernote or Notion, but it works well. It has never features like rich text formatting, stylus support, hyperlinks and more. There's also support for multimedia files like audio notes, images, handwritten notes, sketches. Zoho Notebook has an outstanding feature called "Smart Cards". This feature automatically structures your notes so that they are neat and easy to read. What's more? Zoho Notebook has collaboration features that enable you to work with other people on your note.
Rounding Up…
Whether you want to put down ideas for a project or you want to note down your shopping list, note taking apps are very useful for day-to-day life. Not only are most of the apps on this list useful, they are also free. We hope you found this guide helpful? If you did, kindly leave a comment and don't forget to share…