Note-taking hasn't been any more convenient and better than in these age. We had times when all you could only do to take notes was to use papers. But those days are gone with the coming of digital technologies. Now, not only can you take notes, you can save them to the cloud to prevent loss.
The best note-taking apps have basic features, and also other additional features that make them standout. You want to have a great experience while taking notes whether at work, or at school. In this guide, we cover the best note-taking apps for iOS…
1. Evernote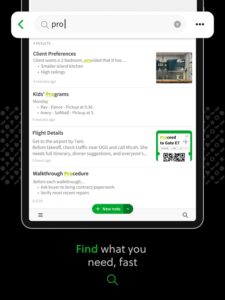 Evernote is a solid note-taking app for Android. It is a robust option that will cater for your note-taking. Many people will find the app useful and some will even see it as an overkill. The app can let you capture rich text notes. You can even create tables within Evernote. Evernote can let you link notes which is a great feature. Its support for file attachments, audio recordings and more. It even has the Share feature that allows you to collaborate with others. What's more? Organisation is really top-notch on the app. With Evernote, you can easily find and access your note fast and easily. Notes are stored in Notebooks and you can have many of them. Evernote supports Siri shortcuts that lets you create audio commands so that Siri adds items to notes.
2. Bear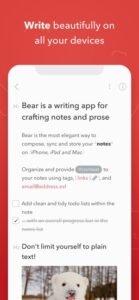 Bear is a great contender to Evernote and it has many robust features for your note-taking needs. The app has the major basic functions such as the ability to capture notes in text, image, and video forms. The Bear app has a nice feature which is the tri-panel design that lets you do things on the app productively. It boasts of Markdown support which makes it a choice note-taking app for writers. Bear also has synchronization capabilities. You can sync your notes across your iPhone, iPad, and MacBook. You can easily organise notes with hashtags that will let you create categories. Notes in Bear can be exported in various document formats like Text, PDF, MD, HTML, DOCX, and more.
3. Paper by Dropbox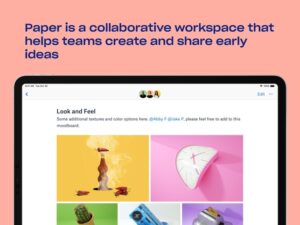 Paper doesn't have a lot of rich features, but it does have enough features to help you create notes. It has rich text support among other formatting options like bullet points, checkbox, to-dos, and more. Although, you cannot record audio or handwrite notes, you can add images from your camera or the Photos app. The collaboration feature in Paper makes the app really stand out. Others can join you on the note to collaborate with you. Once you invite those people, they can edit notes and leave comments. You can even mention someone by their @username to let them know they are needed on a particular part of the note. The notes in Paper are put into folders for better organisation.
4. OneNote
OneNote is an excellent app for note-taking. It has incredible features free-of-charge. It boasts of many features that make note-taking a breeze. If you're really into Microsoft products, you will find the app very useful. You can connect the app to other Microsoft apps. You can capture notes whether as typed, video, images, drawn or audio. You can organise your notes, add tags, make notes into categories, clip and save content and do more. You get most of the major features for free, but you'll need to upgrade to an higher plan if your account's cloud storage space runs out. But if you're not going to be adding any new images or videos, then the default storage size will be enough.
5. Notability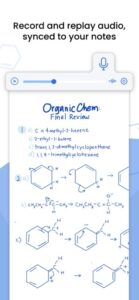 Notability is another note-taking app for iOS. The app has a host of features to help you stay organised when creating notes. It also support a wide variety of note-taking methods. You can record audio notes, or type out texts or add a photo or GIF. The app allows you to mark up documents, textbooks and more. The organisation function of the app is decent and you can easily find notes. Notability also allows you to scribble sketches or add handwriting to notes. Notability will let you share notes via Dropbox, Google Drive and other cloud storage. There are also synchronization features and you can sync your notes between your different Apple device.
Rounding Up…
Note-taking apps are useful solution for taking down important information whether at work or in school. They can also be used to take down shopping lists, to-do lists, or work on any personal projects. We hope you found this guide helpful? If you did, kindly leave a comment and don't forget to share…