5 Best Music Player Apps for iPhone & iPad 2021
Music is a form of entertainment that has been existing for long and it isn't going away anytime soon. It started without the technology we have today, and now that we have advanced technology, music has been greatly enhanced by it.
With our smartphones now, we can have and listen to tons of music. Music player apps also allow us to tweak the sounds the way we like. Music Player apps are not restricted to only these that have been mentioned, they do more. In this article, we explore the best apps for playing music for iPhone and iPad.
1. VOX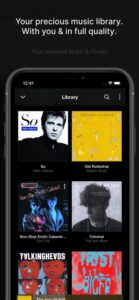 If you want a powerful music player on your iDevice, choose VOX. The app is available for iPhone, iPad and even Apple Watch. It boasts of many exciting features alongside the basic features. Apart from playing your local music, you can stream music which is only possible with a subscription. You still have ability to play local music on the free version but for more features, you'll need the subscription. The premium version also has support for radio stations and a variety of streaming options which you can pay for if you really need them. It is a well-rated app having many positive reviews on the Apple App Store making it an excellent app overall.
2. FLAC Player +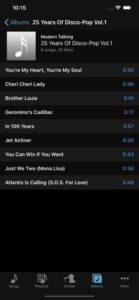 Another great music player that works excellently well on iOS is FLAC Player +. The free music player app is a dedicated local music player app with support for music file types like FLAC, MP3, AAC, WMA, and RealMedia formats. With the app, you can categorise songs by artist, album or playlist. The app also allows you to transfer music via WiFi which is a very useful feature. Although you don't have the best interface here, it does the work as it should and may even surpass your expectations. It comes with ads but can be removed by paying a fee.
3. Radsone Hi-Res Player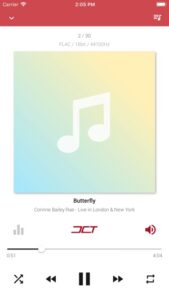 If you want analog-quality audio, then you can't go wrong with Radsone Hi-Res Player. The player boasts of a bunch of options that makes it have better quality than other iPhone music player. For example, it features Distinctive Clear Technology (DCT) which get sounds to fit various music listening scenarios. It does this by minimizing the loss as a result of digital compression. Radsone also has presets for various music devices like earphones, external speakers and you can tweak these presets to sound the way you like. It's interface is clean and simple also.
Download Radsone Hi-Res Player
4. Cesium Music Player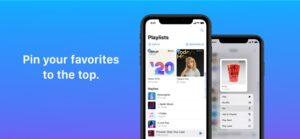 Cesium is one of the best music player apps for iOS available. If you desire high quality music entertainment, then you should go for this app. The app has beautiful looks and combine this with great functionalities. It integrates well with iCloud and iTunes for extended capabilities. You can easily navigate to different part of the app with swipe gestures. It is possible to play an artist, playlist or album and you can also shuffle between songs by using swipe gestures. You can also adjust the theme to reflect night or day and you can use the color sliders to tweak the accent colors.
5. TapTunes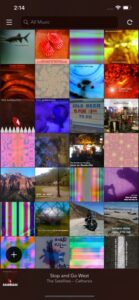 Taptunes is another app that helps you enjoy your music experience. The amazing app helps you manage your music collection with its easy to use interface. You have at your disposal gestures to control playback. You can tap, touch, swipe, drag and shake to have an interesting music experience. It boasts of great customization with over 25 settings to suit your preferences. TapTunes can help you browse using five different displays. It is also possible to share the music you love via Email, Facebook and other social media platform.
Rounding Up…
Whether you're in transit or relaxing or in a workout, music is a great accompaniment. Not only does it provide entertainment, it can also inspire one or relieve one of stress. We have provided the best music player apps for iPhone. We hope you found it helpful? If you did, kindly leave a comment and don't forget to share.