5 Best Motion Graphics Software 2023
Motion Graphics is highly essential in our world today. Used widely in advertisement, entertainment, marketing, and other areas, it is an effective way of conveying information. To be a successful motion graphics designer, you'll need to have the right kind of softwares and tools. This means tools that can cater for your needs as a designer. There are many motion graphics design softwares available on the market, but in this guide, we cover five of them. Let's go…
Adobe After Effect
One of the best Motion Design software is Adobe After Effect. The software has features of a video editor, and graphics design tools. The app will allow you to create animated graphics, and you can export the final video. It has a robust set of integration options as it works with other editing softwares like Final Cut Pro X, and Avid Media Composer. It also works with softwares such as 3ds Max, Cinema 4D, and Maya. You even have more advantage with the Adobe Creative Cloud ecosystems that allows you to draw from the strengths of other apps in the ecosystem.
Cinema 4D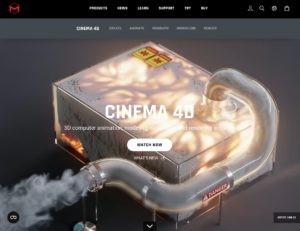 Cinema 4D is another impressive motion graphics software on the list. Motion Graphics Designers use it when working in 3D. Cinema 4D boasts of powerful capabilities, and you can create brilliant 3D animations with it. The app is heavy on integration, and you can import assets like PDF and SVG. Known to be simple to use and intuitive, the 3D software is easy to learn by any beginner. It features the brilliant Poly Pen tool that allows designers to manipulate freely. There's also the Sculpting tool that lets you work with organic models. Other features include keyframing, auto keyframing, and character animation tools.
3. Maya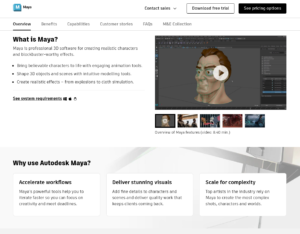 Maya is another motion graphics tool. It works for 3D animation, motion graphics, and video editing. The software allows you to create characters, animating them, and making them into a ready-to-use video. The software is popular in the video game industry which tells you that it is a powerful software. It has a graphics panel which lets you create stunning visuals, beautiful characters, and backgrounds. It boasts of a Bifrost liquid creation feature that allows you to create realistic animations. There are also scripts and plugin creation features, as well as realistic animations and effects.
4. Mocha Pro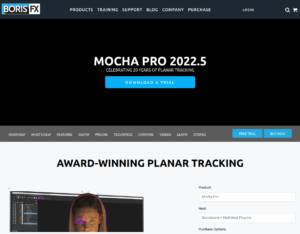 Mocha Pro is another brilliant software for motion graphics. The software is suited for performing screen replacement. If you're a motion artist that wants to do rotoscoping or remove objects, then you'll find this software useful. The software integrates well with  After Effects or Premiere Pro, where you can begin and then track the shot in Mocha. It boasts of advanced features such as lens calibration, stabilization, GPU accelerated tracking, and more. There's also support for Stereo 360 as well as VR. What's more? You can do sophisticated masking with edge snapping.
5. Adobe Premiere Pro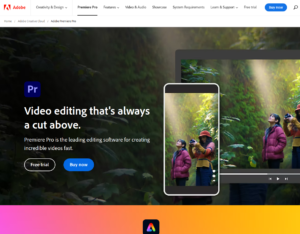 For video editing, the industry-standard software is Adobe Premiere Pro. It is used by creators who love the non-linear approach of video editing. The app boasts of solid video editing features with brilliant tools that make work easier and faster. Motion graphics designers use the app to produce high-quality videos. The software had prebuilt motion graphics templates to help your workflow. You can easily add text, and simple graphics easily, and you can customize videos to look the way you want.
Rounding Up…
Choosing the right software depends on your needs as a motion graphics designer. While some are more pricey than others, you want to also choose one that gives you good value for money. We hope you found this guide helpful? If you did, kindly leave a comment, and don't forget to share…