MMORPG stands for Massively Multiplayer Online Role-playing Game and it is popular genre of game among gamers. The game opens you to a world of players globally which you can play against. You can explore worlds, weapons, controls and more. In recent times, these type of game has gained more attention from gamers with a bunch of top-notch games being played widely all over the world. In this guide, we explore 5 best MMORPGs.
Old School RuneScape
One of the best MMO out there, this game will get you into the fun. Old School RuneScape is also available for desktop and the mobile version mimics the PC version. The game offers almost the same experience as its PC counterpart. The game combines addictive gameplay with point-and-click controls. Though it doesn't have impressive graphics that are eye-catching, it has a great gameplay. If you can make do even with its outdated graphics, you will be satisfied by the experience of the game.
2. Dawn of Isles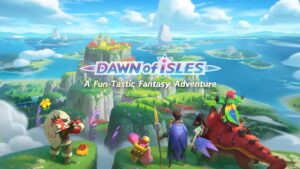 Dawn of Isles was released about four years ago. The game is a contender to games like Genshin Impact and Breath of the Wild. It's aesthetics are beautiful with a combat based gameplay. It has great MMORPG features that give it an immersive feel. Though not as immersive as the two open-world adventures, it is definitely a great one. There may be a lot of competition between the plethora of MMORPG, but this one is worth checking out.
3. Albion Online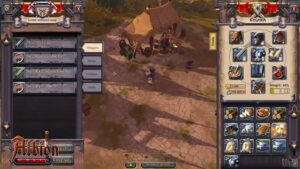 Since MMO have a lot of menus, it can be difficult to pack them into a mobile screen. But Albion Online does it well by fitting its menus nicely into your screen. Not only does it deliver its controls well on your screen, there are also many features that just makes the game standout. Instead of getting experience, you earn fame which will allow you activate goodies. It gives you an interesting feel. You get the traditional MMO mechanics with innovative features alongside.
4. Guardian Tales

Do you want something like GameBoy Advance era, then you have Guardian Tales. The game features sprite-based characters set in the world of Kanterbury. It takes up many features from The Legend of Zelda: Four Swords Adventure and it is as though it's a rebirth of it. You engage with plenty of little puzzles and you need the friends you make on the way to help you out. It may not be that game with stunning graphics, but even low-power games can play it.
5. Legacy of Discord – Furious Wings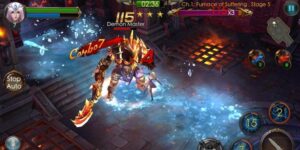 Furious Wings features an environment of intense battle with warrior attacking you. You have to make use of your weapons, strength, and combat strategies. The MMORPG is full of mind-blowing combats with players from around the globe. You get to meet new players everyday and get into battle. There are a lot of equipment to characterise your characters. You also enjoy the impressive 33 graphics and interesting sound effects that gives the game a realistic feel.
Download Legacy of Discord – Furious Wings
Rounding Up…
And there you have it! If you want to get into the fun and you love playing against global players, then the games listed here are worth trying out. We hope you found this guide helpful? If you did, kindly leave a comment and don't forget to share…