5 Best Laptops for Graphic Design 2021
Most digital jobs require a computer for the job to be done. Yes! You could also use a smartphone, but you won't have robust capabilities that only a computer would offer. Graphic Design is one of those jobs. Every design creative would know that they need a great laptop to be able to create designs without running into problems that a incapable computer would bring up.
To buy a suitable laptop for this, you need to check for the screen size, processor, RAM, storage space, graphics card and importantly, battery life. And that's what we did when writing this article. We took into account all these and we have the 5 best laptops for graphic design for you.
1. Apple MacBook Pro 15″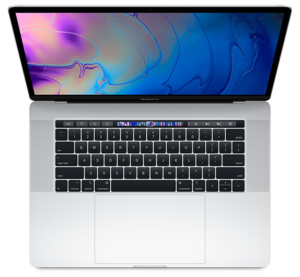 When you talk of flagship, you can't fail to mention that of Apple, the MacBook Pro 15″. It has a design and feel that attest to it's high-grade quality. It's a great choice for every graphic design. The processor got a boost in performance after its upgrade. This happened with the 2019 refresh. The keyboard was not left out too, you have a more responsive keyboard.
A touch bar also comes with it though more work still needs the be done about it. The processor we talked about is a 2.4GHz Intel Core i9 processor (octa-core, up to 5.0GHz) with graphics of AMD Radeon Pro Vega 20 under the hood. The laptop packs a RAM of 32GB and a storage of 4TN SSD, now that's massive. You can enjoy using this laptop for a decent time of 7 to 10 hours.
2. Dell XPS 15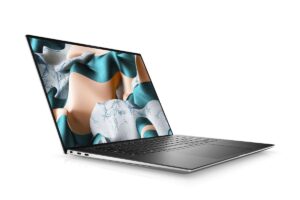 When you are talking about the best kind of laptops, the Dell XPS range of laptops will always be among them. And the XPS 15 isn't anything less than that, in fact, it is a powerhouse. Built-in are a lot of high-end components that proves it to be excellent. The 15.6 inch laptop is so slim and you can hardly see any bezel.
Featuring a brilliant touchscreen, and a fantastic source of performance power which is the processor and graphics card, this laptop will handle your graphic design needs. The powerful Core i7 processor, 4K panel and a Nvidia GeForce GTX 1650 graphics card all deliver a battery life of 8 hours which is just decent. The memory department comprises of 8GB to 32GB RAM and 128GB SSD to 1TB SSD.
3. HP Envy X360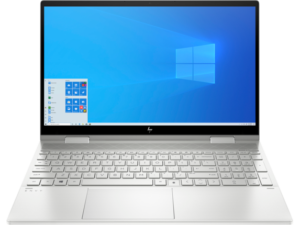 We have yet another option you can try out for your graphic design job. When you think of excellent screen, performance, and battery life, you think the HP Envy X360. The package is a great one for your graphic designer needs. And since HP is a reputable name in the laptop market, you can count on this machine that it won't disappoint.
As a graphic designer, you won't want to compromise good performance and screen resolution for anything, and this machine just delivers that. The design of the laptop is also fantastic. Sporting a stylish and compact design, it looks and feels quality. Under the hood you have an AMD Ryzen 5 4500U processor and an AMD Radeon Graphics backing it. RAM stands at 8GB and there's a decent 236 PCIe SSD.
4. Acer Helios Predator 300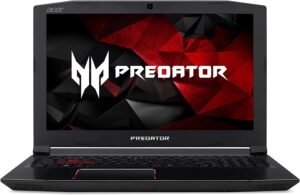 A gamer laptop will mostly be suitable for graphic design because of its powerful hardware. So is the Acer Predator Helios 300. The laptop which is targeted at gamers also delivers excellently for designers. The laptop is fairly powerful sporting a 16GB of RAM, and a processor of Intel 6-core Core i7-8750H configuration. This combo will run most of design softwares well.
Though cheaper than laptops on this list, the Helios 300 is capable. Screen-wise, you can be sure of creating graphics on a vivid display. Although, it's competitors sport better screen, the Helios 300 screen is still great for its price. Battery life stands at a range of 3 to 4 hours which is very low which is a drawback, but you can expect this of a gaming laptop.
5. Microsoft Surface Book 3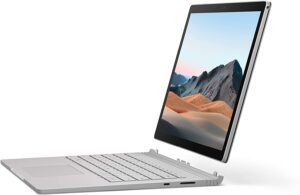 You can find the Surface Book 3 available in two models with each having different offerings. You should get you hands on the higher model because we think it would be better for graphic design work. This higher models has a i7 processor an upgrade from the i5 of the lower model. You also have more RAM or SSD.
It is interesting to know that both models are reversible and have removable touchscreen. It is even possible to use it as a tablet or a normal laptop. Because of the touchscreen, you have some advantages with the Surface Book 3. Talk about sketching, the touch screen will give you a seamless and intuitive experience for that.
Rounding Up…
While choosing a laptop can be a tough job because there are many available, you don't want to rush to choose one that although looks cool, but may not serve your need. And that's why this article was written. All you need do is to know what feature is more important for your job and go for it. We hope you found this helpful? If you did, kindly leave a comment and don't forget to share.