5 Best Invoice Apps for Andriod 2022
If you're a business-owner, you'll know how important it is to keep records of your finances or prepare invoices so that you can get paid by your clients and customers. Likewise freelancers will need to create invoices for clients so that they are rewarded for their work. Invoice app at their basic level let you create invoice, but the best let you do this fast and easily and also add a bunch of excellent features to go along. In this guide, we explore the 5
Best Invoice Apps for Android.
1. FreshBooks
FreshBooks is one of the most solid invoice apps out there. The app is capable of handling the billing and the invoice accounting of your organization. The simple app is easy to use and has a great-looking interface. The app boasts of well organised expense management and you can calculate billing hours for your jobs. The app is also heavy on reporting and you can make proper analysis of your invoice activities. The app also has a robust payment collection system. There is a user-friendly dashboard that gives a good overview of things. FreshBooks also integrates with a lot of third-party apps.
2. QuickBooks
QuickBooks is popular among small businesses and freelancers. The app by Intuit works well for your invoicing and accounting activities. With the app, accounting just got simpler and easier. You can use QuickBooks to document your business finances. You can create new invoice easily. The app also allows you to see your invoices and edit them from its dashboard. What about automation? The app can automate the sending of your invoice. QuickBooks has a smart feature that shows you the effect of paying bills on your business' finances.
3. Zoho Invoice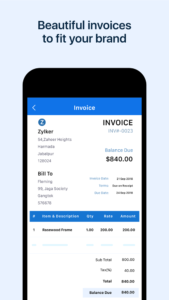 Zoho is a powerful invoice app. The app boasts of robust automation features. Instead of having to always all the repetitive manual tasks which includes data entry, filing and more, you can set workflows that will automate repetitive tasks like calculating late fees, discounts and scheduling triggered emails. There are five different automation types from email alerts to custom functions. For example, with the email alert, automatic emails can go out when an invoive is created or overdue. The custom functions is one of the highlights of the app where you can write some piece of code to instruct Zoho on how to automate invoice functions
4. Invoice Simple
If you want a simple and an easy-to-use app, then you can't go wrong with Invoice Simple. The app will let you send estimates to your business clients. Freelancers will also find the app useful as its features can work for them. The app will produce simple but professional invoice whenever you need it. Invoice Simple also allows you to monitor and keep track of your invoices on other devices  other than Android. There are also customisation features. It boasts of templates that let you customize your logo, signatures and photos.
5. Easy Invoice Maker App by Bookipi

Bookipi is a great invoice app. The app has a set of cool features that makes it one of the best invoice apps for Android. For example, you can know when a client hasn't opened your invoice because the app will alert you. When client receive invoices, they can sign the document in the email and the signed document will be sent to the cloud for safe-keeping. Bookipi allows you to see reports for Invoices, and estimates. You can even dictate how you want to see this reports: by month, item or customer.
Rounding Up…
Fast invoicing is one thing most business owners and freelancers look out for when choosing invoice apps. Because of a lot of repetitive tasks when creating invoices, it is best to choose an app that streamlines the process. We hope you found this guide helpful? If you did, kindly leave a comment and don't forget to share…