Gone are the days when we could only do design with desktop computer. With our smartphones becoming more and more powerful, the possiblities have become more endless. Some apps don't even require you to be a graphics designer, you can make use of the templates available in them. Others have advanced features and will require someone with graphics design knowledge to use them effectively. In this guide, we explore the best graphics design apps for Android…
1. Canva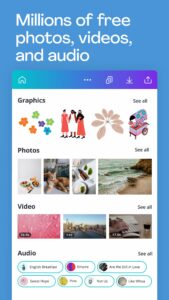 Canva is a free design tool used by many individuals and businesses. It is easy-to-use, all thanks to its variety of templates which are professional. It's templates are customisable and you can tweak it to have the branding of your business. You have templates for Instagram, TikTok, Facebook, Twitter and other social platform. Not only does it allow you to design graphics, there's also a video maker in it. So it's a complete package. It also has a large library of free stock asset. You can get access to as much as 2 million royalty-free images. It's a complete package for brands that don't have budget to spend on a graphics designer.
2. Adobe Illustrator Draw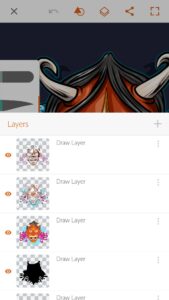 Illustrator Draw by Adobe is a very wonderful graphics design app for Android. The simple app allows you to make drawings and sketches. The app is a vector-based app which you can use to create illustrations. You can easily export the creations you made in the app to other apps or even a desktop software which can be handy if you some inspiration flashes in your imagination. Illustrator Draw is a good tool to have if you're into illustrations.
3. Infinite Design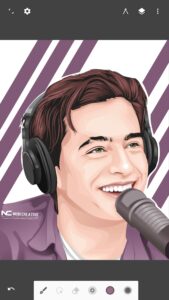 Infinite Design is a powerful SVG app that works well on Android. The app boasts of pan, zoom, and rotate controls giving you room to explore your creativity. It also features infinite path editing, and infinite layers. There's also an history slider to help you go forth and back on your design history. There are other layers option such as flip, rotate, translate, skew, among others. It also boasts of grids for snapping or reference, automatic shape detection and more.
4. Photoshop Mix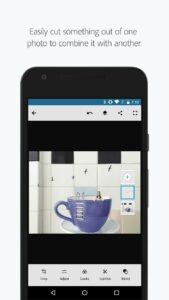 From the developers of the industry-standard Adobe Photoshop, Photoshop Mix is a solid app for editing on mobile. The app boasts of a wide array of features and functionalities that make it a app good for editing. It features the ability to take elements from different images and combine them and you can use blending options to enhance the output. It may not replace the desktop option, but it's worth using. You can work with color adjustments and non destructive editing. Photoshop Mix also allows you to share directly to social media.
5. Autodesk Sketchbook
Sketchbook is another solid design tool available for Android. It is an easy-to-use app that artists and llustrators can use to create their artistic designs. It boasts of very useful tools and features that are professional-grade. These tools include curved ruler, perspective guides, symmetry tools and more. It also has Customize, Constrained Grid and Infinite tools. It also features variety of brushes that can help with your creation.
6. Adobe Creative Cloud Express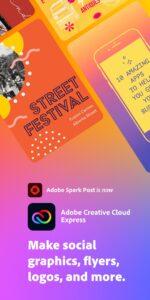 Formerly known as Adobe Spark Post, this app is a great app to create graphics for your business and brand. You can create social media designs, flyers, logos and more. The app allows you to use your own images and you can edit the way you like on the app. It has various templates that are made for the different social media platform available. This means you care create posts and stories for Facebook, Instagram, Twitter and more. It also has advanced feature like background removal, conversion to GIF and more.
Download Adobe Creative Cloud Express
Rounding Up…
While these apps obviously cannot completely replace desktop apps, there's still need for them. Whether you're on the go, you have some flash of inspiration or want to access your files remotely, having them can truly make you mobile. We hope you found this guide helpful? If you did, kindly leave a comment and don't forget to share…