Freelancing made up 36% of the U.S. workforce in 2020 and grew higher in 2022. Working as a freelancer comes with many benefits; you can enjoy the freedom of choosing your workload, projects, and clients.
During the COVID-19 outbreak, companies were increasingly recruiting freelancers to cope with work demands. Hence, the number of available freelance jobs – from grocery shoppers to web developers – is now bigger than ever.
If you've been looking for freelance jobs, you probably know how overwhelming the task can be, even if you've already created an online portfolio. But don't worry – I'll list the best freelance websites in this article.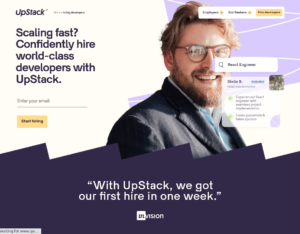 This is a great platform for top developers and programmers. Upstack aims to elevate remote tech teams worldwide through dedicated freelance talent. They look for the best freelance talent by sourcing their developers from all over the world.
They deploy an 8-point hiring process to ensure their site users have access to the best candidates with top-notch developing skills, communication, and personalities. They offer talent in diverse fields including Java, Python, iOS, and PHP.
They've worked for big-name brands like Microsoft and Lego. However, UpStack has a diverse talent pool that's highly scalable depending on the size and scope of your business.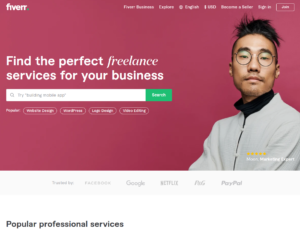 This is a great freelance website for beginners and fixed projects. They connect freelancers with business owners looking for services in various digital projects, including website design, content writing, and voice-overs.
Fiverr provides a streamlined method for both freelancers and business owners to interact with one another. Note that on the website, freelancers are called sellers, their services are called gigs, and business owners are called buyers.
Instead of sending out bids, sellers can sign up for free, list their gigs, and set their prices. Meanwhile, buyers can simply browse through different categories to purchase. Whenever a buyer purchases a gig, the system automatically charges their account and puts the money on hold. The system will then take a commission fee and send freelancers 80% of the offered price.
If you want something turned around quickly without breaking the bank, Fiverr is an option worth checking out. Additionally, if you have a unique service offering and are creative at marketing, you can really stand out.
In recent times, it has been regarded as the best freelance website because of its numerous benefits. It is a great place to find work especially if you're a freelancer. From a client point of view, it's easy to post a job listing that you need to fill and find freelancers. You can sort through the applications manually and reach out to anyone you're interested in.
Clients and freelancers have multiple ways to connect – clients can choose to post a job and hire talent or buy a predefined service from the project catalogue. Similarly, freelancers can access the job board and offer a service to sell.
To get started as a freelancer with Upwork, begin by creating a profile. Ensure it includes details about yourself, your expertise, and your work experience. Keep in mind that clients will decide whether you're qualified by scanning through your profile whenever you bid for jobs or pitch a project.
Upwork has a sliding scale, meaning the more you work, the less money you pay. For example, the commission fee starts from 20% for the first bill of $500 and gradually reduces as you receive more money. There are several options for withdrawal, including direct transfer, PayPal, and wire transfer.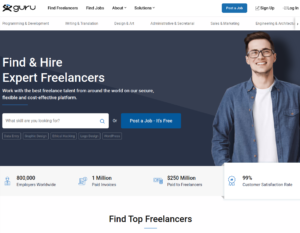 Guru is a place for freelancers and companies across the globe to work together. Companies can hire professionals with various skills, such as programmers, graphic designers, and product managers.
This freelance website makes it easy to browse job listings and submit quotes to clients. Start by signing up and building a freelancer profile. The system will give job recommendations based on your skill-set and work experience. Freelancers can bid for long or short-term projects and give a fixed price for each project. There are multiple withdrawal methods to receive your earnings, including PayPal and wire transfer. More importantly, the site ensures freelancers get paid timely with SafePay protection.
Every freelancer that signs up on this freelance website gets a free basic membership. However, paid membership plans include more tools to make your profile stand out.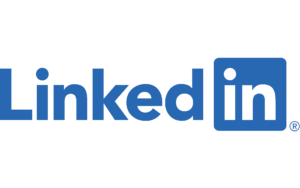 LinkedIn is one of the most popular job sites providing an easy way to find jobs in various fields. It's also a social networking platform for professionals to connect and interact with each other.
Simply sign up and create a profile to get started. Include as much information as possible, such as your skills, education, and work experience. A comprehensive LinkedIn profile can open up more job opportunities.
Adding a new post can also give your profile more exposure. For example, if you're a freelance writer, create a post describing your expertise and attach your work portfolio. Potential employers might discover your profile and make you an offer.
Browsing through LinkedIn job postings is also a great way to find freelance opportunities. To find your desired freelance job, make sure to use related keywords and sort the results from the latest.
We hope you found this guide helpful? If you did, kindly leave a comment and don't forget to share…