File Managers are not new. They've always been used to access, manage, and organise files for a long time before Android came into existence. Over the years, they've evolved into more integrated programs with the advancement in technology. Now, you can connect file managers to Cloud Storages, modify the system files and do more. In this guide, we explore 5 best File Manager App for Android.
Solid Explorer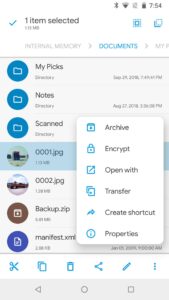 Solid Explorer is a solid file manager as its name implies. The app has basic file manipulation features as well as advanced ones. Advanced features include the ability to create new ZIP archives and also add passwords to ZIP folders. Solid Explorer has a smart interface. The app has a two-panel interface which can allow you drag and drop files and folders between two locations. You can even drag between local and cloud-based folders. You can manage files and folders from a variety of cloud-based storage service like Google Drive, Microsoft OneDrive, Dropbox and more.
2. Files by Google
Files is a app by tech giant, Google. The app is a simple, and easy to use file manager for Android. Files has some good features that help in managing your files easily. There are three tabs in Files by Google namely: Clean, Browse, and, Share. The 'Clean' tab has information about the amount of storage left and how much is in use. It will also suggest how you can free more space for your Android device. On the Browse tab, you can view files easily, all thanks to the organisational structure of the app. The Share tab is a place for sending and receiving files easily.
3. FX File Explorer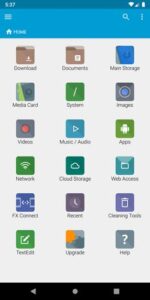 FX File Manager is another excellent choice of file manager. The app is privacy-focused and does not include ads. It is also designed with Material Design guidelines making it have a clean interface. It has the basic file management tools as well as some advanced ones. It also supports dual-pane view. Advanced features include text editor, encryption support and shell script executor. Other features included in the app are FTP, SFTP, and SMB, WebDAV and can be gotten by purchasing the FX+ add-on.
4. Total Commander
Total Commander is an oldie in the file manager industry. It is one of the most advanced file manager out there. You can do basic file operations like copying, moving, copy and more. On the other hand, you can copy or move entire sub-directories. The app has support for drag-and-drop, file deletion and file archiving. It can also work with various file sharing protocols including FTP, OBEX, LAN SFTP, WedDAV. It also works with cloud storage with a plug-in.
5. MiXplorer Silver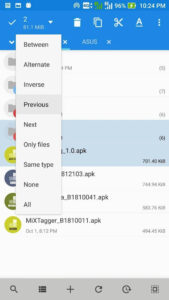 MiXplorer Silver is another excellent file manager app. The file manager boasts of many useful features that help you manage files more effectively. There's basic file management features like file browsing, archive support, HTML viewer and more. It can also work with eBook files like PDF, EPub, MobiPlacket and more. There's also support for file encryption, and cloud storage.
Rounding Up…
The best file manager apps combine excellent functionality with an array of useful features. If you're a power user, you'll find some of  the apps listed here useful for you. And if you're looking for something basic, all the apps should work. We hope you found this guide helpful? If you did, kindly leave a comment and don't forget to share.