It can be a painful thing when a precious file of yours gets deleted. Or what can be more bad than when your drive which contains your business documents crashes. One could believe they are gone forever. Or could that be? If you are in this situation, we know you desperately want a solution.
Data recovery is possible. If you use a Mac, you can recover days from a drive that was corrupted, damaged, or crashed. This is why we created this list of the best data recovery tools. Let's dive right in…
Disk Drill for Mac
Disk Drill is a powerful data recovery app for Mac. Not only is it powerful, it is modern and offers many features that gets the job done. It can recovery over 400 different file formats making it a robust option. Apart from your hard disk, it allows you to scan your Android and iOS devices also. Inside Disk Drill are many free disk tools like Boot Drive, Data Backup, Duplicate Finder, Data Protection, SMART Monitoring, and more. The One-Click Scanning feature makes Disk Drill very easy to use. You just need a single click to start the recovery process, and even beginners will find this as an advantage. Another thing is that Disk Drill doesn't take time to scan your disk.
2. EaseUS Data Recovery Wizard for Mac
EaseUS is another data recovery software for Mac. The free version of the software can recover data from a variety of devices. These devices include hard drives, USB Drives, memory cards, and more. It can work on internal HFS+ drives, and on FAT/FAT32 file systems. The free version also has maximum limitation of 2GB of restored data. EaseUS has the ability to recover a wide variety of file format including image, video, document, and music files. One of the advantage of EaseUS is that it boasts of a fast scanning process that that you get your data recovered quickly. Also it organises your data so you can pick out the one you want to recover.
3. TeskDisk and PhotoRec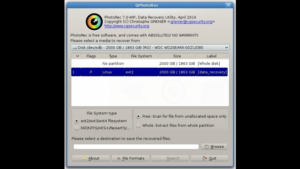 TestDisk and PhotoRec is another data recovery tools. They may have two different names, but they are both in the same package. TestDisk helps to recover lost partitions, and repair disks. PhotoRec on the other end recovers lost data on your storage. One great thing to know about these tools is that they are open source, meaning that the public can have access to the source code. The TestDisk tool is very effective in recovering damaged and corrupted partitions. PhotoRec is also powerful, and will do deep scan on your storage devices. It can perform these scans on HDDs, SSDs, SD Cards and more. The tool supports varieties of file systems such as APFS, FAT32, NTFS, HFS, and HFS+, although the tool doesn't perform the same way on every file system.
4. R-Studio for Mac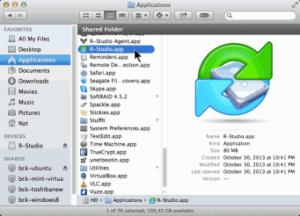 This data recovery software was developed for data recovery professionals, and beginners may not be able to get a hang of all its features. Some of its features can be very complicated. Sometimes, it can be difficult to locate a particular feature within the tool. With the advanced feature of the tool, you can repair damaged RAID implementation. You can also do network data recovery. The tool can allow you to preview files that are up for recovery. You can do this before paying for the advanced feature. If you want to dive deep into it, the developers provides documentation that will tutor you on every type of data recovery.
5. Recoverit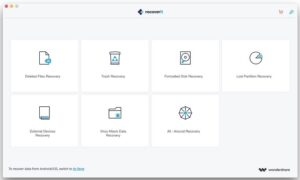 Recoverit is another date recovery software for Mac computers. In Recoverit, you go through a three-step recovery process that helps you to recover your data quickly. Since 2003, Recoverit has been helping several users recover lost data. The tool has the ability to recover lost data from SSDs, external drives, and memory cards. It can recover deleted files from the Trash, and accidentally formatted disk. Recoverit has support for a good number of file types such as image, video, audio, and document formats.
Rounding Up…
Losing your wedding photos can cause you not just any pain, but emotional pain. But thanks to these days recovery tool, there is hope of getting them back. We hope you found this helpful? If you did, kindly leave a comment, and don't forget to share…