What do you do when you're waiting by the bus-stop for a bus and just watching everyone pass doing their daily activities? Maybe just watch and get bored or maybe play a city building game! City building games are awesome games that puts you in charge of a city, developing it till it becomes an established city conducive for citizens. It involves strategy, management of money and resources. In this guide, we provide you with 5 best building games for Android.
SimCity BuildIt
SimCity is a real city building package. You play as the new mayor of SimCity with the tasks of creating a beautiful city that all citizens love to love in. You must surely build a city that people are in support of, so you need to take into account the needs and demands of the people. In the game, you can build many buildings. The budget will keep rising, so you have to build wisely. You also need to develop the economy of your city by making trades with other cities. You'll surely encounter challenges that come with running a city like pollution, traffic jams, and more. But you have to put systems in place that overcome these challenges.
2. Megapolis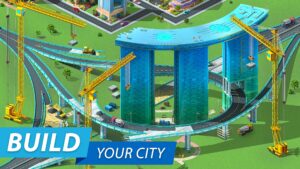 Megapolis is a wonderful and sophisticated game. In it are structures, airports, and ports that can help you develop your city into a modern one. It also boasts of mines, and underground networks to further help in the economy of the city. The game involves you mining resources and selling to other cities which will make for your city wealth. You can export the resourses to other cities through train networks and other means. Also, Megapolis is rich in industralization and technology making it possible for you to build a space station from where you can launch rockets to space.
3. Townsmen


Townsmen is one of the best building games for Android. The game is a medieval city building game which is staged in a village at first and requires you to build up to a medieval city. Since you're building a village up, you will have a lot of challenges. From the poor technology available in your village, trying to build a sustainable economy, to the natural disasters happening here and there, you really have stuffs to deal with. The game gets updates that improves the game so you don't feel old on the game.
4. TownCity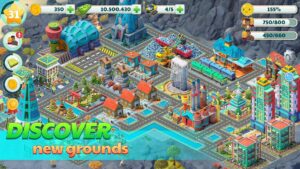 The creators of City Island 3 – Building Sims and City Island 4 – Sim Town Tycoon bring a fresh experience of city building through TownCity. The game brings on a casual feel with a lot of fun. You can create your urban town and establish an urban life there. Just grow your town and make inhabitants enjoy the good of the town. The game boasts of over 100 beautiful buildings which can be unlocked. There are also islands which you can build cities around. There are challenges that will expose you to new grounds.
5. The Simpsons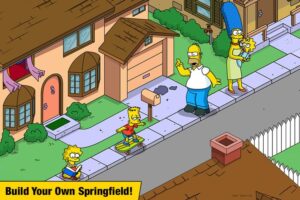 The Simpsons game brings a humour edge to city building. There are myriad of tools that help you to build the city and develop it into a conducive environment for citizens. First, you need to remove the mess and then rebuild everything again. You'll need some characters, so collect them and also reunite citizens with their families. The game will involve you growing the town economically by growing businesses and expanding the town.
Rounding Up…
City Building games put you in the fun and develops your management skills. It's not bad to enjoy the fun of building a simulated city. We hope you found this helpful? If you did, kindly leave a comment and don't forget to share…