5 Best Bluetooth Apps for Android 2022
You'll find Bluetooth on virtually any smartphone. It has been a medium of transferring data and information between devices for a very long time now. With it, you can transfer photos, videos and audios. You can also connect wireless devices to your phone using the Bluetooth connection. But beyond all these, there are more things you can achieve your the Bluetooth function of your device by just having an app to extend its functionality. In this guide, we provide the 5 best Bluetooth apps for Android.
Bluetooth Auto-Connect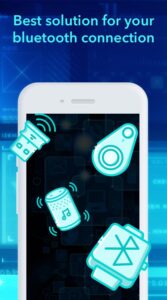 If you been encountering problems when connecting your Bluetooth gadgets to your phone, it's time to get a decent Bluetooth manager. As most of these problems can make you frustrated, it is important that you have a place to manage and monitor all your Bluetooth connection from one place. Bluetooth Auto Connect allows you to connect your devices automatically and it provides you with stable connection. It has an interface that enables you work with each function of your Bluetooth device.
Download Bluetooth Auto-Connect
2. Bluetooth File Transfer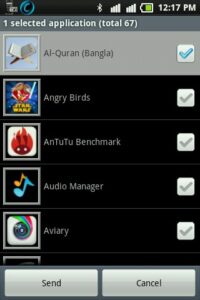 If you need a high-speed Bluetooth file transfer app for your Android device, look no further than Bluetooth File Transfer. Though it has an outdated interface, but it still works. The apps relies on the OPP OBEX FTP Protocols to transfer files among devices. Bluetooth File Transfer lets you transfer various kinds of files like contacts, media, compressed files like Zip, RAR, GZip. The interface looks like a file manager and from there, you can access the phone internal storage or the SDcard. It is possible to transfer media files like photos, audios and videos.
Download Bluetooth File Transfer
3. Bluetooth App Sender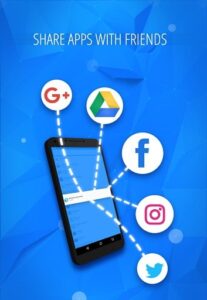 This app allows you to send apps over to another device over Bluetooth connection. The app is easy to use and send apps. Start by launching the app, and then choosing which of the app you wish to share, and initiate the transfer. As you may not able able to transfer apps directly from some device with Bluetooth, this app will prove very useful. You can even do more with the Bluetooth App Sender. It allows you to delete apps directly from it so you can free up space from your device.
4. Bluetooth Remote PC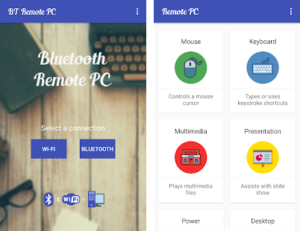 Bluetooth Remote PC allows your Android phone to communicate with your PC over a Bluetooth connection. This way you can manage your desktop from your smartphone. You can even use it on a WiFi connection. Bluetooth Remote PC can work as a wireless manager for your computer system. You can actually control things on your computer with this app. The app also works with PowerPoint presentations and you can use it as a remote to switch between slides. You can even perform other functions like controlling the computer's keyboard and mouse.
5. Bluetooth Sender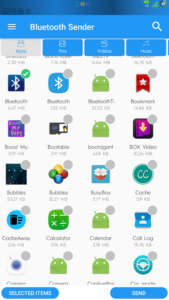 Another app to transfer files from your Android device is Bluetooth Sender. It is one of the best Bluetooth apps. The app allows you to transfer photos, videos, audios, apps and more. It allows you to do this securely. Furthermore, it can allow you to transfer multiple field at the same time. The app also features an app extractor that lets you extract the APK of apps you have on your Android device. Overall, it is an efficient tool with a great user interface making it easy for you to navigate across the app.
Rounding Up…
Whether you want an app to manage the devices you connect to your phone or you want an app that lets you share files and media to other files, this guide highlights bluetooth apps that covers various Bluetooth features. We hope you found this guide helpful? If you did, kindly leave a comment and don't forget to share…