Being a polyglot is not a bad idea, and you can add Korean as one of your languages. Korean is a popular language that is interesting to learn. It has a different alphabet system and had sounds different from English. Whether you want to learn it for travel sake or just to wow your friends, there are apps that can take you up from novice level in Korean. If you've been looking for such app, then you have come to the right place. In this guide we explore 5 best Korean Learning Apps for Android…
1. Naver Dictionary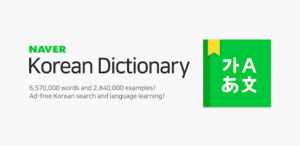 Naver Dictionary is your dictionary guide to learning Korean. Developed by Naver, Korea's most popular search engine, the dictionary is available in 33 languages. It boasts of a lot of examples and model sentences that helps you know the best use of words, proper grammatical context, and common idioms in the language. You can also confirm Korean pronunciation, all thanks to the app audio recordings integrated into the app. There's a translator feature which will translate Korean sentences when you need it. There's also a comprehensive encyclopedia which feature lots of articles that help you explore the Korean culture.
2. Mondly
Mondly boasts of 33 languages which you can learn and it has Korean. You can learn Korean through another language other than English. It is possible to lean Korean through Dutch, Arabic, or Chinese and so on. Mondly also incorporates augmented reality in teaching you languages. Mondly has short lessons that will come up regularly. Mondly is great if you're a beginner and will help you kick-start your Korean Language learning. In all, it has an gamified, hands on and immersive learning experience to get you up from zero level in the language.
3. Rocket Language
When you talk about high quality lessons, then you can trust Rocket Language for this. The app helps you up from a novice level to being able to speak fluently in Korean. Rocket Language focuses on communication instead of just memorisation. In the course are the important things you need to know from Korean alphabet to pronunciation and more. It has flexible structure that enables you to run through it without stress. There are also writing practice to help you grasp the alphabets quickly.
4. Pimsleur
Pimsleur gets your speaking and listening skills better and better. You get lessons in audio which is best appropriate for learning. You can also learn anywhere. Whether in the bus, while doing house chores or anywhere you can hear the audio. The course is arranged in an orderly manner to help you learn efficiently. The audio in the app are high quality and are spoken by native speakers to help you learn the language more naturally. The app is a great companion that will get you mastering Korean .
5. Rosetta Stone
Rosetta Stone is a popular app for learning Korean. It's also an classic app that's been in existence for 25 years. Rosetta Stone helps you to learn how to speak Korean in conversations via a Rosetta Stone method known as Dynamic Immersion. The app helps you learn Korean vocabulary in no time with its lessons that has both audio and visual cues. While you won't get much from it if you want to learn in-depth grammar and advanced vocabulary, the app is helpful for conversation practice.
Rounding Up…
Learning Korean can be fun and many apps try to make this evident by giving you interactive lessons as well as quizzes and more. Just by spending a day on any of these apps, you can begin impressing your friends with some Korean lingo. We hope you found this helpful? If you did, kindly leave a comment and don't forget to share…