5 Best Antivirus Apps for iPhone & iPad 2021
In a time when security and privacy is of a major concern in the tech world, it is important to be on guard. No matter the device you're using, they are prone attacks and threats that can threaten your privacy. Although the iOS is a pretty secured operating system, there's no doubt that you can be at risk of malware. This is where antivirus apps come into play. With the best antivirus apps, you have more than a virus scanner and in this article, we'll explore these apps.
1. Avast Security & Privacy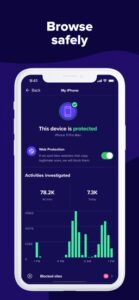 One of the best apps for securing your phone from antivirus is Avast Security & Privacy. The solid security app is a top choice when it comes to antivirus protection and has apps for various desktop and mobile platforms. It is a capable app and delivers excellently. The app scans malware on your device and removes them. It also blocks malicious websites that want to get malware into your phone. It boasts of a WiFi scanner protecting you from insecure networks. There are also tools that makes sure you have full privacy on your device by optimising security settings on your iPhone.
Download Avast Security & Privacy
2. Avira Mobile Security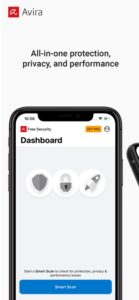 The Avira antivirus app is loaded with many pro features that are available for free. All the features are packaged in a intuitive interface. The app boasts of a Privacy Manager which blocks Siri from sending your data to Apple. So you can limit the data that Siri sends to Apple, thanks to this feature. Avira Security app is also loaded with many other security features like Network scanner, Device analyzer, Photo storage manager, Anti-theft protection, and Contacts backup. The app also boasts of a VPN which protects your browsing session with an encrypted connection. The VPN however has a daily limit of 100MB.
Download Avira Mobile Security
3. Norton 360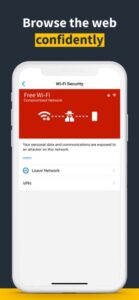 a
Norton is a popular app for Antivirus softwares and security generally. The app has a user base of over 20 million users around the globe. It has been protecting devices from malware and it is good at what it does. The Norton app for iOS has many useful features. You have a tool that filters spam SMS that has a phishing attack. You are protected when you try to connect to WiFi networks as the app warns you of the dangers. Through the Web Protection tool, you are shielded from opening malicious websites. It also boasts of Dark Web Monitoring that tells you whether your personal data has been compromised.
4. Lookout Mobile Security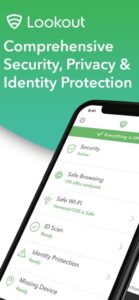 Lookout Mobile Security is another great app for securing your iPhone against viruses and malwares. It boasts of four layers of solid protection. The app is loaded with many security features all for your security needs. You have tools to monitor security vulnerabilities, a WiFi network checker that alerts you when you connect to an insecure network and a monitor that checks app for anything suspicious. Lookout also has an anti-theft tool that can track your device location, sound an alarm, and show a custom message on your lockscreen.
Download Lookout Mobile Security
5. McAfee Mobile Security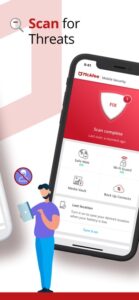 With McAfee Mobile Security, you have a great number of security features that gives you protection. It boasts of a solid anti-theft tool that can sound a very loud alarm. You can trigger this alarm from your McAfee's online dashboard. The alarm is really loud. That's not all with the anti-theft tool; It can also remotely track your location as well as wipe your data. This is much robust that Apple's Find my iPhone. Other features included in the package are a WiFi scanner, contact backup, phone security and more.
Download McAfee Mobile Security
Rounding Up…
It is better to be safe than be at the risk of losing your information to apps that will sell them or infects your iPhone with malware. There may be many antivirus apps for iPhone but the five listed here truly deserve your attention. We hope you found this article helpful? If you did, kindly leave a comment and don't forget to share.