For you to create content that will do well, there are a lot of boxes to tick. From idea generation, keyword research, to proofreading, there's a lot to do. Luckily, with the advent of AI tools, you need not go through the stress and long process of writing articles, blog posts, or social media posts. These AI tools automate the writing process, and let you have excellent written content quickly. In this guide, we are going to look at the best content creation tools on the market…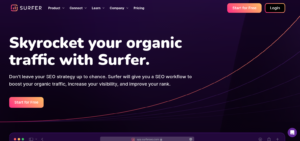 Surfer has a lot of features under its belt. The AI tool helps you with content editing, keyword research, SERP analysis, domain analysis. It also has content planning features. The content planner has tools for preparing your content letting you work on your content effectively. With it, you can do keyword research. There's also the Audit feature that scrutinizes your existing pages for missing keywords and compares them to your competitor pages. What about the Brief tool that prepared an AI outline for you with unique headings and paragraphs. You will get suggestions on headings, titles, and subheadings according to your keyword research.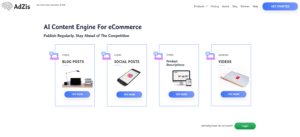 AdZis is another AI content creation tool more suited for eCommerce. This tool will let you know what is relevant in your industry thereby helping you rise above the competition. As at the time we were writing this, AdZis has worked on and published over 500,000 write ups for over 50,000 clients. AdZis works well for e-commerce businesses as it allows you to create quality product descriptions for as many products as you have. Not only can it generate product descriptions, it can also create social media posts, articles, SEO titles. With the tool, you can maintain social presence and interaction through AI-generated posts. You can even schedule your posts on different social media platforms.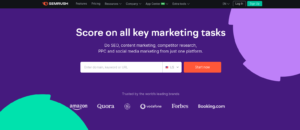 There's another AI content creation tool to check out – Semrush. The tool boasts of over 50 tools to help you create content effectively. For example, you can use it for search engine optimization on your blog. It will help you check if your content does well SEO-wise. It will even let you know how original your content is in real-time on WordPress. With its SEO Writing Assistant (SWA), you can always have SEO content as it crafts this kind of content for your blog or website. SWA not only only creates content, it can help you target the right keyword, and improve your content readability. SWA also makes SEO recommendations so that your content is more visible in Search Engine Result Pages (SERPs). There's also a plagiarism checker in Semrush. This plagiarism checker will compare your article to other content online and reveal the number of copied words in yours.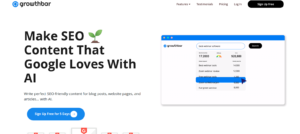 Another AI content creation tool on the market is GrowthBar. This tool helps you to create your content. It lets you create things ranging from blog posts, product descriptions, or emails. That's not all, it will also conduct keyword research, as well as optimizing your content. Growth Bar can also work on a simple paragraph with its simple paragraph generator. There's also a content detection tool in it that brings up meta description for your content. What's more? It has the Internal Link Suggestions feature that makes suggestions of internal links as you write your content. It has a keyword research tool as well as a Rank Tracker. The rank tracker monitors your site based on certain keywords and tells you if your site is performing well.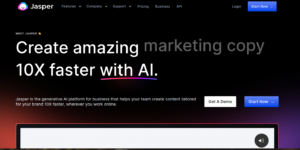 Jasper.ai is another AI writing tool. The AI content tool helps you create amazing content. With Jasper, you can create various types of content – from short content to long content. You can create content ranging from social media posts, blog posts, PPC copy and even landing pages. It is a solid option for those looking to create breathtaking content without much stress. There are over 50 templates in Jasper to let you easily start out on a project. Not only that, it has the "Recipes" feature that combines templates together for larger projects like video scripts. Jasper can work with other tools, so you do things more easily.
Rounding Up…
To succeed and do well among your competition, it is important to invest in tools that help you create content effectively. You not only get high-quality content, it also helps you save time. Whether you are a business owner, or you are in the content marketing team, these tools will help you to be productive. We hope you found this guide helpful? If you did, kindly leave a comment, and don't forget to share…