With the right headphones, you can transform your work-from-home experience from ordinary to extraordinary. These carefully selected gems not only enhance your focus but also guarantee clear and seamless communication during video calls. No more struggling with muffled conversations or distractions. Our curated list ensures you have the perfect balance of sound quality and microphone clarity. Whether it's active noise cancellation or background noise reduction, these headphones have got you covered.
1. Sony WH-1000XM5

The Sony WH-1000XM5 headphones excel in providing a seamless audio experience for remote work. Their standout feature is active noise cancellation, which automatically adjusts based on your location, ensuring optimal sound quality. The "Speak-to-Chat" function allows for easy conversation without removing the headphones, though it pauses if you start singing. Additionally, a sensor in the ear cup automatically pauses audio when removed, conserving battery life.
The accompanying app offers extensive customization options, including an EQ with bass boost and location-aware settings. The headphones deliver a spacious soundstage, supporting spatial audio and LDAC codec. They maintain a balanced sound profile with powerful bass and intricate detail. Notably, they exhibit minimal sound leakage even at high volumes.
While battery life matches the previous model with noise cancellation, the WH-1000XM5s offer an extra two hours without it. Although competitors offer longer battery life, the exceptional noise-cancelling capabilities and overall feature set make these headphones a top choice for immersive work environments. Consider the purchase if you value cutting-edge noise cancellation and advanced AI-driven features. However, if you already own the WH-1000XM4 model, the upgrade may not be significant enough to justify the expense. Additionally, those seeking portability may want to explore other options due to the headphones' larger size.
2. Bose 700 Noise Cancelling Headset
The Bose Noise Cancelling Headphones 700 boast an impressive array of 11 noise cancellation settings, providing a versatile solution for various environments. Notably, they excel in avoiding the discomforting pressure sensation common in other noise-canceling models. The 'Conversation Mode' offers full transparency, allowing natural conversations without removing the headphones.
In terms of sound quality, they deliver a vibrant, well-balanced performance, with excellent detail and clarity. While handling complex tracks admirably, high-frequency sounds may occasionally verge on harshness. The headphones offer a wide soundstage, avoiding the closed-off feel often associated with noise-canceling models.
While the Bose 700s are an excellent choice for noise cancellation and provide enjoyable audio quality, they face stiff competition from the Sony WH-1000XM3s. Despite a slightly higher price and shorter battery life, the Bose model stands out in terms of sleek design. Ultimately, the choice between the two boils down to priorities: the Sony headphones offer better value, while the Bose 700s impress with their aesthetics and extraordinary noise-cancellation capabilities.
3. Bang & Olufsen Beocom Portal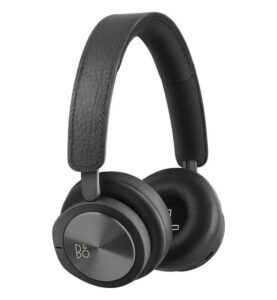 The Bang & Olufsen Beocom Portal headphones offer a premium audio experience, catering to discerning users prioritizing quality over cost. Designed with hybrid work in mind, they come Zoom-certified and support various communication platforms. They include Beocom link USB wireless Bluetooth adapters for easy setup, ensuring compatibility with different devices.
These headphones stand out for their elegant, lightweight design and comfortable wear, thanks to an ergonomically designed headband. Intuitive touch controls on the ear cups allow for seamless operation, though some gestures may require familiarization. They also provide options for wired connections via USB and 3.5mm audio.
The Beocom Portal excels in voice isolation with an array of beamforming microphones, minimizing background noise during calls. While noise cancellation is effective, it may not match pricier competitors. Battery life is commendable, offering up to 23 hours of talk time and 47 hours of music playback. However, the premium price point may deter budget-conscious consumers.
For those valuing luxury and a tailored business experience, the Beocom Portal delivers exceptional sound quality and functionality, though it comes at a premium cost.
4. Cleer Audio Alpha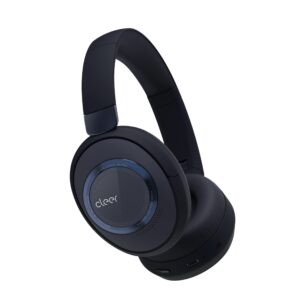 The Cleer Audio Alpha headphones stand out as a newcomer, impressing with a focus on premium features. They offer 35 hours of battery life with ANC activated. Connectivity is seamless with Bluetooth 5.1, providing a range of up to 50 feet. However, their weight at 10.2 ounces may lead to some discomfort during prolonged wear.
Design-wise, the Alphas exude a high-end feel, with durable construction and smooth finishes. They come with a range of accessories, including an airline adapter. The control scheme, featuring physical buttons and touch panels, is highly effective, allowing various modes of operation.
Audio quality shines, offering a balanced frequency spectrum and impressive layering. The inclusion of Dirac Virtuo spatial audio enhances the listening experience. While noise cancellation is effective, it falls slightly short of competitors like Bose and Sony.
The Cleer Audio Alpha headphones excel in sound quality and battery life, making them a strong contender in the premium headphone market. However, some comfort issues and limited features at this price point are worth considering.
5. Jabra Evolve2 75
The Jabra Evolve2 75 sets a new standard with its sleek design and advanced features. Unlike its predecessor, it boasts a refined form with a shorter retractable microphone boom and a discrete charging base. The headset supports both USB-A and USB-C versions, with the charging base available in USB-A only. It comes in black or beige and is compatible with Microsoft Teams or UC.
The Bluetooth 5.2 ensures seamless connectivity, allowing pairing with up to eight devices and simultaneous connection to two. This facilitates easy transitions between different devices. The ANC (Advanced Noise Cancellation) mode effectively eliminates background noise, allowing clear communication.
Charging is a breeze, with a quick 15-minute charge providing 6 hours of use, and a full charge offering 36 hours of battery life. The headset also offers impressive sound quality, suitable for various purposes beyond conference calls. While it comes at a premium price, the Evolve2 75's performance justifies the investment.
In Conclusion…
With the right headphones, you can transform your work-from-home experience from ordinary to extraordinary. These carefully selected gems not only enhance your focus but also guarantee clear and seamless communication during video calls. No more struggling with muffled conversations or distractions. Our curated list ensures you have the perfect balance of sound quality and microphone clarity. Whether it's active noise cancellation or background noise reduction, these headphones have got you covered. in the business. It's time to make your remote work setup truly exceptional. We hope you found this helpful? If you did, kindly leave a comment, and don't forget to share…