When you're gaming on PC, a keyboard is a necessity. Depending on the game you're playing, a mouse may not be enough, or a controller may not just do. With a keyboard, you have more controls and versatility. There are various factors to look at when considering to buy a gaming keyboard: how responsive a keyboard is, the switch types, and how comfortable it is to use. It can be confusing to pick a keyboard as there are many on the market, but we'll make it simple here. In this guide, we explore the best gaming keyboard on the market. Lets dive right in…
1. Corsair K70 Max RGB – Best Gaming Keyboard Overall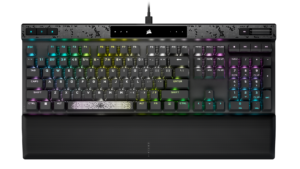 The Corsair K70 Max RGB represents a quantum leap in gaming keyboard technology, surpassing its predecessors in innovation and functionality. Featuring the groundbreaking MGX magnetic switches with dual-actuation capability, it offers gamers unprecedented customization options. Corsair has also taken user feedback to heart, addressing noise concerns by incorporating sound-dampening materials, resulting in a quieter, more enjoyable typing experience. The AXON technology adds another layer of sophistication, providing a multitude of onboard profiles and lighting effects, along with an impressive polling rate of 8,000 Hz for lightning-fast responsiveness.
The included magnetic wrist rest, although subjective in comfort, adds to the overall user experience. In summary, for serious gamers seeking the pinnacle of gaming keyboards, the Corsair K70 Max RGB is the undisputed choice. Its blend of cutting-edge features, impeccable performance, and durable construction set it apart as a true flagship in the realm of gaming peripherals. With Corsair's relentless pursuit of excellence, the K70 Max RGB raises the bar for gaming keyboards and establishes itself as the go-to choice for discerning gamers.
2. G.Skill KM250 RGB – Best Budget Gaming Keyboard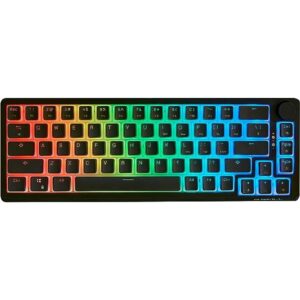 The G.Skill KM250 RGB gaming keyboard challenges the notion that high-quality mechanical keyboards come with a hefty price tag. Priced at an incredibly budget-friendly price, it offers a host of enthusiast-level features without breaking the bank. This compact 65% keyboard boasts hot-swappable Kailh Red switches, per-key RGB backlighting, and discrete media keys. While it may lack the premium luxuries like sound dampening and high-end stabilizers, the KM250 excels in functionality and affordability.
The inclusion of a tactile volume wheel is a surprising and welcome addition, providing an extra layer of convenience. However, the plastic chassis, while solid, exhibits some minor sharpness at the seam, which may be a slight discomfort for some users. The choice of Kailh switches may not match the premium feel of genuine Cherry MX, but they provide a satisfactory typing experience.
For gamers seeking an authentic mechanical keyboard experience on a budget, the G.Skill KM250 is a standout option. With the option to easily swap switches, it offers a customizable and cost-effective solution. Overall, the KM250 proves that exceptional gaming peripherals don't have to come with a hefty price tag, making it a top choice for budget-conscious gamers.
3. Mountain Everest 60 – Best Compact Gaming Keyboard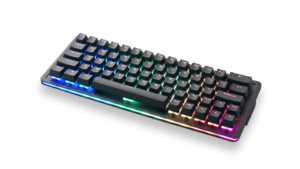 The Mountain Everest 60 emerges as a top-tier compact gaming keyboard, revolutionizing the 60% form factor with a unique inclusion of arrow keys. While this addition necessitated slight adjustments to key sizes, the typing experience remains excellent. The factory-lubed Linear 45 switches offer an impressively smooth keystroke, rivaling even hand-lubed alternatives. Mountain's comprehensive sound-dampening approach ensures a premium auditory experience, effectively eliminating any pinging.
The Everest 60's keycaps, made of double-shot PBT, strike a balance between durability and comfort. While they may appear slightly blurry on certain keys, they provide a pleasant tactile feel. The optional detachable numpad, an unusual feature for a 60% keyboard, adds versatility, serving as a boon for data entry or macro functions.
Gaming on the Everest 60 is a delight, thanks to the Linear 45 switches' smooth actuation. These switches outshine standard options, providing an exciting alternative. The keyboard's game mode feature further enhances the gaming experience by disabling specific key combinations.
In summary, the Mountain Everest 60 excels in key aspects of a gaming keyboard. While the 1u right shift key may require slight adjustment, the smooth switches, sound dampening, and versatile detachable numpad make it a standout choice for gaming enthusiasts seeking a compact yet feature-rich keyboard. .
4. Logitech G915 Lightspeed – Best Wireless Gaming Keyboard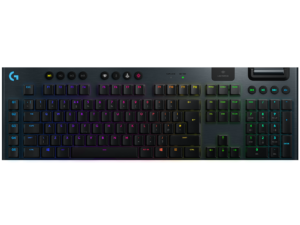 The Logitech G915 Lightspeed emerges as a standout alternative gaming keyboard, redefining the typing experience with low-profile mechanical keys. The keyboard commands a premium, justifiable for enthusiasts seeking top-tier performance. The GL switches offer swift actuation, ideal for rapid keystrokes, while the build quality and functionality are impeccable. The aluminium top plate exudes a refined aesthetic, drawing inspiration from non-gaming keyboards like Microsoft's Surface and Apple's Magic models.
While the absence of a wrist rest is a minor drawback, the G915 compensates with wireless prowess. Logitech's Lightspeed technology ensures minimal lag, rivaling wired counterparts. The keyboard's compact design and wireless connectivity eliminate USB pass-through, providing an uncluttered desktop.
The G915's battery life is exceptional, lasting up to 12 days of eight-hour use per charge. Logitech G Hub software facilitates easy customization of lighting schemes and macros. While lighting could be crisper, it's a minor quibble.
Ultimately, the G915 justifies its premium price with a winning combination of precision typing, speed, and comfort. Its mature aesthetic sets it apart from typical gaming peripherals, making it an ideal choice for those seeking a high-end, refined keyboard experience.
5. Keychron Q5 – Best Alternate Gaming Keyboard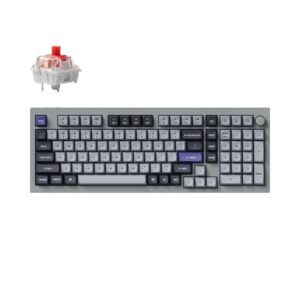 Keychron's Q5 is a standout alternative gaming keyboard that bridges the gap between custom designs and accessibility. Crafted from hefty milled aluminum, it exudes premium quality, weighing in at 82 ounces. The layout strikes a balance, offering a compact 1800 design, conserving width while maintaining essential functions. Notably, a rotary dial in the upper-left corner adds a premium touch and enhances functionality.
The Q5's typing experience is a testament to its meticulous engineering. Its gasket mount system and dual layers of foam provide a satisfying tactile response, minimizing "ping" and noise. Gateron G Pro switches, pre-lubed for smoothness and durability, elevate the typing feel. The keyboard boasts doubleshot PBT keycaps in the classic OSA profile, ensuring longevity and a premium touch.
The Q5's extensive customization options, including hot-swappable PCB and VIA programming, empower users to tailor the keyboard to their preferences. While programming nuances exist, they're outweighed by the Q5's impressive features. The keyboard offers remarkable value, standing out in the niche of premium keyboards. Keychron's Q series, available in various layouts, establishes itself as a top choice for enthusiasts seeking a customizable, high-quality keyboard.
In Conclusion…
There are many kind of gaming keyboard on the market, but there's the right one that works best for you. Getting the right keyboard can be a game-changer especially for long gaming session. And here we have simplified the process by hand-picking the best. We hope you found this guide helpful? If you did kindly leave a comment and don't forget to share…