The Sony ZV-1F is a stellar choice for budding content creators, particularly those venturing into vlogging. Its compact, pocket-sized design and impressive 4K video capabilities make it an excellent option for beginners seeking to elevate their video content. The camera's user-friendly interface caters to both novices and those desiring more manual control. Notably, its Intelligent Auto modes ensure optimal results, while the manual mode allows for complete customization of settings and exposure levels. The ZV-1F excels in video production, boasting exceptional image stabilization and top-tier face and eye tracking, characteristic of Sony cameras. However, it leans more towards video than photography, lacking raw capture capabilities. The non-interchangeable lens and limited options for photography might deter some users. The Sony ZV-1F stands out as the best camera for aspiring content creators, prioritizing video production without compromising on quality.
2. DJI Pocket 2 – Best Budget Vlogging Camera
The DJI Pocket 2 is a top-notch choice for budget-conscious vloggers and content creators. Boasting a 64MP sensor and a stabilizing gimbal, it ensures steady, high-quality footage even while on the move. The upgraded 1/1.7-inch sensor brings improved depth of field and autofocus capabilities. Plus, its wider field of view enhances vlogging, capturing more in each shot. The standout feature is object tracking, allowing hands-free shooting from a fixed position. However, in challenging lighting conditions or scenes with high contrast, it faces some difficulties. It excels as a video recorder and voiceover tool but is slightly behind in still photography compared to flagship smartphones. Despite these minor drawbacks, the DJI Pocket 2 shines as an affordable tool for budding content creators. Its three-axis gimbal and versatile shooting modes place it among the best vlogging cameras. It offers impressive value for its capabilities, making it a compelling choice for those looking to up their content creation game without breaking the bank.
3. GoPro Hero 10 Black – The Best Action Camera for Vlogging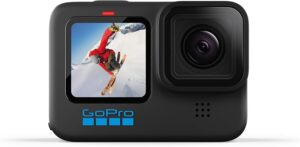 The GoPro Hero 10 Black, GoPro's flagship action camera, refines and enhances the features of its predecessor, making it a standout choice for content creators. While it lacks the 8:7 sensor for vertical videos found in the Hero 11 Black, the Hero 10 offers outstanding value. Equipped with a GP2 processor, it introduces impressive shooting modes like 5K/60p, 4K/120p, and 2.7K/240p, perfect for social media and B-roll footage. The touchscreen interface is vastly improved, addressing a previous drawback, and a new wired data transfer mode for phones streamlines file management. The camera's HyperSmooth 4.0 stabilization remains top-tier in the industry, especially with a new hydrophobic lens cover for watersports enthusiasts. While the Hero 10 doesn't feature a larger sensor, it excels as an accessible, powerful action camera and an excellent YouTube and travel companion. Despite some incremental upgrades, the Hero 10 Black stands as a refined and user-friendly choice for creators.
4. Sony ZV-E1 – Best Compact Camera for Vlogging
The Sony ZV-E1 is a game-changer for content creators. It's packed with smart features that simplify filming. Auto Framing is a standout, smoothly tracking subjects as they move. It's like having multiple cameras in one! The camera also excels in image stabilization, ensuring steady videos even without a gimbal. With a high-quality 4K sensor, it delivers top-notch video and crisp photos. Despite its small size, the ZV-E1 offers incredible performance, rivaling pricier models. It's the ideal tool for solo creators looking for professional-level content without the hassle. The ZV-E1 sets a new standard for compact cameras, making it a must-have for any serious content creator.
5. Insta360 X3 – Another Top-notch Camera for Vlogging
The Insta360 X3 emerges as a versatile action camera catering to vloggers and content creators. Its standout feature lies in its exceptional 360-degree video capabilities, outshining even the GoPro Max in terms of single-lens clarity for 4K footage. Notably, handheld use surpasses the GoPro, providing a seamless experience akin to using a smartphone. The device boasts an unusually impressive screen, enhancing usability significantly. Editing footage is a breeze with intuitive tools, ensuring a quick workflow.
However, there are minor drawbacks. Playback options are limited on the camera itself, and there's a slight delay in video initiation. While the Insta360 X3 excels, dedicated action cameras from DJI, Insta360, and GoPro may serve better for single-lens videos. The device's Active HDR mode addresses blown highlights effectively. The Insta360 X3 offers a compelling upgrade, particularly for its larger screen and impressive HDR mode. With a superior screen, powerful editing capabilities, and excellent stabilization, the Insta360 X3 stands as an enticing option for content creators and vloggers alike.
In Conclusion…
Choosing the right camera for vlogging and content creation can transform your videos from ordinary to extraordinary. From the compact and powerful Sony ZV-E1 to the creatively versatile Insta360 X3, each option offers unique features tailored to different creators' needs. Whether you're a seasoned vlogger or just starting out, having the right tool can make all the difference. So, pick the one that resonates with your style and get ready to capture your world in stunning detail. Elevate your content, engage your audience, and let your creativity shine through with the perfect vlogging camera. We hope you found this guide helpful? If you did, kindly leave a comment, and don't forget to share…