Choosing the perfect travel camera is like finding a trusted companion for your adventures. It's about capturing moments with ease and clarity, ensuring your memories last a lifetime. While smartphones are handy, dedicated travel cameras offer superior image quality and special features. From compact, lightweight options to advanced mirrorless models, we've carefully selected the top 5 travel cameras of 2023. Whether you're exploring bustling cities or rugged terrains, our guide simplifies the process, making it easy for you to pick the ideal camera for your needs. We've assessed factors like user-friendly controls, picture quality, durability, connectivity, and affordability to ensure these cameras meet all your travel photography requirements. So, whether you're a thrill-seeker or a casual explorer, trust our recommendations to help you capture your journeys effortlessly and beautifully.
1. OM System OM-5 – Best Overall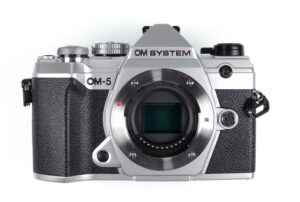 The OM SYSTEM OM-5 is a game-changer for travel photography. Built on the success of its predecessor, the OM-D E-M5 Mark III, this camera maintains a compact, lightweight design while housing a potent 20.4MP sensor. What sets it apart is the advanced TruePic IX processor, enabling exciting features like Hand Held High Res Shot Mode and LiveND. While it doesn't adopt the OM SYSTEM's new menu style, it compensates with a featherlight body and 5-axis stabilization, ensuring hassle-free portability.
Its robust weather sealing provides extra confidence when shooting outdoors. The OM-5 produces impressively sharp JPEG images, particularly in the sky, while the raw files offer extensive editing flexibility. Paired with the OM SYSTEM M.Zuiko Digital ED 40-150mm f/4 PRO Lens, you'll have a winning combination that delivers stellar image quality in a compact travel package. This duo makes the OM-5 the go-to choice for capturing moments on the move. With the OM-5, you're equipped with a powerful camera that won't burden you during your adventures, making it an exceptional choice for travel enthusiasts.
2. Olympus OM-D E-M5 Mark III – Best Tough Travel Camera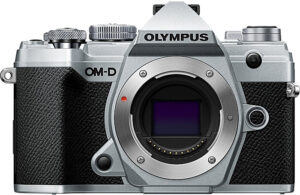 The Olympus OM-D E-M5 Mark III shines as the ultimate rugged travel camera. With a 20.4MP sensor and phase detection autofocus, it excels in continuous shooting. The TruePic IX processor powers features like Hand Held High Res Shot and LiveND, adding versatility. While it lags slightly in image quality compared to rivals, the High Res Shot mode compensates, delivering 50MP images. The 5-axis stabilization ensures sharpness, even at slower shutter speeds.
Controls are well-designed, though small, and the vari-angle touchscreen aids shooting at various angles. The camera offers a competitive 10fps burst shooting, with an impressive buffer capacity.
The 20.4MP sensor delivers sharpness, and features like HDR and High Res Shot mitigate limitations. Its video capabilities, including 4K shooting, are commendable for its class. The Olympus OM-D E-M5 Mark III is a top choice for travel photography, combining portability, ruggedness, and performance seamlessly.
3. Canon EOS Rebel SL3 – Best Profession Camera for Travel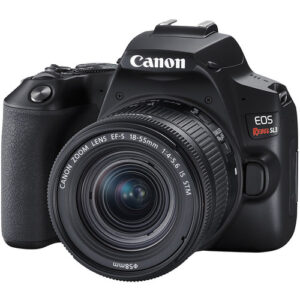 The Canon EOS Rebel SL3, also known as the EOS 250D, stands out as the top choice for budget-conscious photographers seeking a professional-grade travel camera. With a 24.1MP APS-C sensor and Canon's advanced DIGIC 8 processor, it achieves remarkable image quality, even in challenging lighting conditions. This DSLR's 9-point phase detection autofocus system is straightforward for beginners, while Live View mode employs Dual Pixel CMOS AF, rivaling the speed and precision of mirrorless counterparts. Notably, it offers 4K video capability, a rare feature in DSLRs, although there's a slight crop factor to consider.
Despite its compact size for a DSLR, the Rebel SL3 boasts a robust grip and well-organized controls, providing a comfortable shooting experience. The camera performs reliably, delivering 5 frames per second burst shooting and commendable noise control at high ISO settings. While it may not introduce groundbreaking innovations, the Rebel SL3 excels in providing quality, user-friendly features, making it an outstanding choice for entry-level DSLR enthusiasts looking for a professional travel companion.
4. GoPro Hero 11 Black – Best Travel Camera for Action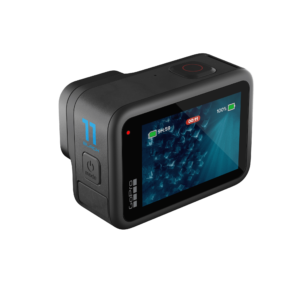 The GoPro Hero 11 Black redefines action cameras, making them more accessible and versatile for a wider audience. Its key strength lies in its enhanced sensor, now tailored for vertical video, catering to popular social media platforms. This compact device can shoot in 5.3K at 60 fps and boasts 10-bit color depth, setting it apart in its class. Notably, it introduces Hyper View mode, perfect for wide-angle captures akin to drone footage.
Additionally, the Hero 11 Black features impressive time-lapse effects for star and vehicle light trails, elevating creative possibilities. It's a boon for vloggers and content creators seeking diverse and dynamic filler content. The option for full-frame recording, while initially challenging, offers unparalleled flexibility in post-production.
While its capabilities are exceptional, the Hero 11 Black does demand a learning curve for those transitioning from smartphones. Overall, the Hero 11 Black stands as a remarkable and user-friendly rugged travel camera, ideal for a wide range of creators.
5. Pentax K-70 – Best Travel Camera for Action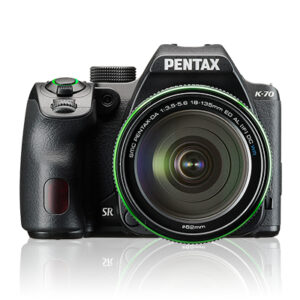 The Pentax K-70 emerges as a top contender in the realm of APS-C DSLRs, particularly favored by travelers for its robustness and high-end features. Equipped with a 24MP sensor devoid of an optical low-pass filter, it excels in preserving intricate details. It pioneers a Hybrid AF system for Live View, a first in Pentax's lineup. The pentaprism viewfinder provides nearly 100% scene coverage, complemented by a weather-resistant construction.
The K-70 introduces innovative modes like Night Vision for low-light scenarios and Astrotracer for capturing star trails. The Outdoor View mode adjusts screen brightness for challenging lighting conditions. Additionally, the Pixel Shift mode combines four images for heightened detail.
In conclusion, the Pentax K-70 exceeds expectations for its category, offering a wealth of features. While improvements in AF and 4K video capabilities would be welcomed, the K-70's enduring value in a dwindling market of low-cost DSLRs is commendable.
In Conclusion…
In the fast-paced world of travel, a reliable camera is your ticket to preserving cherished moments. While smartphones serve their purpose, a dedicated travel camera elevates your memories with superior quality and versatile features. From compact companions to advanced mirrorless marvels, our carefully curated selection of the best travel cameras in 2023 caters to every adventurer. Whether you're navigating city streets or conquering mountain peaks, our guide simplifies the process, ensuring you find the perfect camera. We've meticulously evaluated factors like user-friendliness, image excellence, durability, connectivity, and affordability to guarantee these cameras meet your travel photography needs. So, whether you're a daring explorer or a laid-back wanderer, rely on our recommendations to capture your journeys with ease and brilliance. Embrace the art of travel photography, and let your memories live on in vivid detail. Happy shooting!