5 Best Web Browsers for Android 2023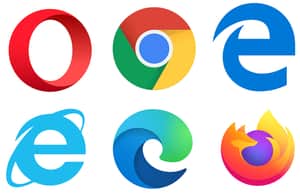 Web browsers have been apps that has existed for a very long time. Over the years, they have evolved to be faster, more efficient and full of useful features. And right now, there are a bunch of mobile browsers that can most of what desktop browser can do.
Whether you want to look up a website or use a search engine, these browsers can work and do more than these. You can even take advantage of the security features of these browsers to ensure more security and privacy when surfing the internet. In this guide, we explore the best web browsers for Android…
1. Chrome
If you love the Google ecosystem and want a browser that is right from Google, choose Chrome. Though it will know about your online life, but it is one that has features that will also benefit you. If you have a desktop also, you can feel convinient using Chrome as it allows you to sync between your various devices. You can easily access passwords saved on your desktop or laptop on your Android device. There are also other features of Google Chrome such as a pop-up blocker, malicious ad blocker, and secure storage for payment methods. You may not get as much features in Chrome as you would get in browsers like Opera or Firefox, but it does have the most important features.
2. Firefox
Firefox is different from other browsers based on the rendering engine it is based on. Most web browsers that work on Android are built off from Chromium, the open-source version of Chrome. This means these browsers work pretty much the same way especially in performance. Firefox has a custom rendering engine. There are a handful of extensions you can install on the Android version of Firefox. However the Nightly version of Firefox can allow you to install any add-on. Firefox is good at blocking tracking scripts. Firefox also allows you to sync your data to the desktop app.
3. Brave
Brave is another browser that is one of the bests. The chromium-based browser has privacy as its primary objective. It boasts of a built-in ads blocker, fingerprinting features, and a host of other privacy-centric features. Not only does it do well when it comes to privacy and security, it is also fast as well. Brave has an interesting feature for syncing which is the ability to sync via QR Code instead of an account. This assures you of privacy and it is easy way of syncing your data. Brave allows you to sync a lot of things: settings, history, and open tabs, extensions other kinds of browser data.
4. Opera
Another great web browser is Opera. Opera does the browsing job well. It features a good looking UI which is easy to use. Opera lets you customise colors and make it look like how you want. There's a data saver feature and AI powered newsfeed for more personalised news. It helps you with secure and private browsing with its array of privacy features like ad blocker which is useful when browsing a web page with pop-up ads. Opera also boasts of a free VPN, so that you are secured on public networks. Opera has these really cool privacy features which are decent for any user.
5. Vivaldi
Vivaldi is also one of the best web browser. It boast of many nice features that makes browsing a beautiful experience. Once you open the browser, you ar greeted with the Valvaldi speed dial which is a beautiful launcher for your bookmarks. The app has features that makes online research a breeze: the built-in rich text Notes tab and the clone tab option which duplicates your tab so that you don't lose it. Valvaldi also has a QR code reader so you don't have to open a seperate QR code reader to open websites. You can also do a quick switch to another search engine even if you have a default search engine.
Rounding Up…
With Android devices becoming more and more powerful, it is not surprising to see that many of these browsers have some capabilities reserved for their desktop counterparts in the past. Surfing just got easier with the best of mobile web browsers. We hope you found this guide helpful? If you did, kindly leave a comment and don't forget to share…