How do you access the internet and browse your favourite website. The answer is obvious already. Most of us must have used web browsers either on our mobile devices or desktop devices. They are the medium between us and the internet. With them we can access the internet, send emails, stream videos and even play games. In this guide, we cover the 5 best apps for Android.
Google Chrome
Google Chrome is an extremely popular browser on the Android ecosystem. The browser not only exist on the Android ecosystem but also on other major platforms like iOS, Mac, Windows and Linux. Because of this, you have at your disposal the powerful syncing abilities of Chrome. You'll be able to access the passwords, bookmarks, settings you save on one device on another device. All you need do is to log in with your Google Account. Chrome can also save your password so you don't have to use another password manager. The browser also features the ability to detect when a password has been compromised.
2. Opera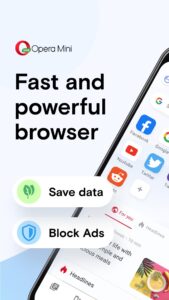 Opera is another browser that gives you a great browsing experience on your Android device. The browsers brings on security and privacy and you'll find Opera useful if that's what you're looking for. There's a VPN in it which you can use free of charge making you stay secure. It boasts of an adblocker so you don't have to deal with ads when you're visiting that webpage. Opera is designed excellently with a nice-looking interface. It even packs themes which you can tweak to look like what you want.
3. Firefox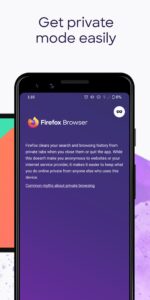 Unlike most of the other Android browser that's based on the open-source version of Google Chrome, Chromium, Firefox uses a custom rendering engine. Those browsers that are based on Chromium behave pretty much the same way, but Firefox is unique among them as it is based on GeckoView. The company is working to enable Firefox get full extension support. Firefox runs smoothly, with better scrolling and usez a bottom address bar unlike other browsers. It also boasts of syncing options.
4. Brave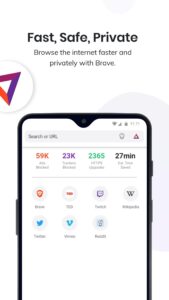 When you want a browser that is about your security and safety on the Internet, them you can choose Brave. Brave is another excellent browser for Android. It comes loaded with features such as a pop-up blocker, tracking blocker and ad blocker. It employs HTTPS Everywhere to ensure that you're browsing securely on the internet. Brave boasts of an incentive that can let you make money. You can be rewarded for using Brave.
5. DuckDuckGo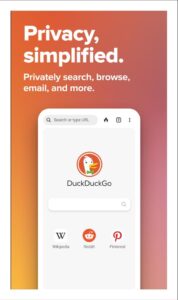 This is another privacy-centric browser that priorities your security and privacy more than anything else. DuckDuckGo is based on the DuckDuckGo search engine and Chromium. The browser doesn't have much features but it security-focused. It has a button to the right that will wipe all your tabs and browsing history. DuckDuckGo also disables ad trackers so you are more safe. The browser keeps you on the highest encryption possible on a site. Some disadvantages of the browser is that it does not has a desktop app and there's no VPN also.
Rounding Up…
Browsing the internet is one of the things we spend our time doing on our devices. Whether is streaming a video, or playing a game, we may just have to use a web browser. We've provided the best web browser apps for Android. We hope you found this helpful? If you did, kindly leave a comment and don't forget to share…