Xbox is a leading platform for playing games. They make some of the best consoles, and they are also manufacturers of controllers. They are not the only manufacturers of gamepads for Xbox, but other brands too make gamepads for the Xbox consoles. If you are looking to purchase a new gamepad but know which to buy, we are here to help you out. In this guide, we have provided the best Xbox controllers for you to enjoy gaming with the best experience. Lets dive right in…
Xbox Elite Series 2 Core – Best Xbox Controller Overall
The Xbox Elite Series 2 Core stands as a testament to exceptional controller design, rivaling even its pricier counterparts. Retaining the beloved rubberized grips of the Elite Series 2, its distinguishing feature lies in the white face section, complementing the Series S aesthetics. The Core model offers seamless connectivity with a 3.5mm audio jack, charging port, and back paddle slots, alongside adjustable tension thumbsticks and 40-hour battery life.
Its standout feature is the extraordinary battery life, surpassing competitors. The controller's versatility shines when back paddles are added, enhancing gameplay in titles like Dishonored and Atomic Heart. While the paddles are commendable, a slight size adjustment would be welcomed. Without them, the Elite Series 2 Core still impresses with sturdy sticks, a distinctive D-pad, and tactile buttons. However, a deeper stick depression would enhance usability.
Despite its premium performance, the absence of attachments at this price point feels slightly stingy. Nevertheless, the Elite Series 2 Core offers unrivaled value, especially for players prioritizing remappable buttons and stick tension adjustability over back buttons and caps. Comparatively, it outshines the competition, like the DualSense Edge, offering more for less. For those seeking the pinnacle of Xbox control, the Elite Series 2 Core is a standout choice.
2. Turtle Beach Recon Controller – Best Budget Xbox Controller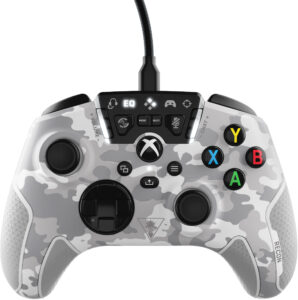 Turtle Beach's Recon Controller challenges the norm with its exceptional performance and unique features. This well-constructed gamepad offers audio enhancement, button remapping, and cooling grips, standing out as a worthy alternative.
Designed with precision, the Recon Controller integrates fine-tuning controls above the Xbox button, along with ribbed Quick-Action buttons on the back for customization. Textured, rubberized grips ensure comfort and prevent hand perspiration even during intense gameplay. While slightly bulkier and heavier than standard controllers, its durable build promises longevity.
Compatible with Xbox Series X|S, Xbox One, and Windows 10 PCs, the controller's USB-A connectivity ensures seamless use. However, the absence of wireless capabilities may be a drawback for some. The inclusion of a 3.5mm jack allows versatile headset options.
In terms of customization, the Recon Controller offers on-the-fly button mapping for the Quick-Action buttons, allowing for tailored profiles. Gaming performance is exceptional, with responsive buttons, smooth thumbsticks, and effective vibration feedback. Its standout feature lies in audio customization, including four EQ presets and a Superhuman Hearing mode for heightened directional awareness.
The Turtle Beach Recon Controller stands as an outstanding budget choice, delivering top-tier performance and features comparable to premium options. Priced affordably, it offers exceptional value for avid gamers.
3. Xbox Elite Wireless Controller Series 2 – Best Premium Xbox Controller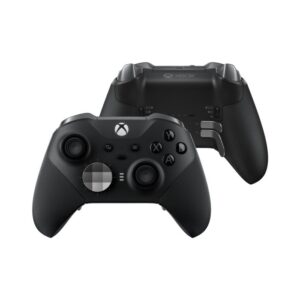 The Xbox Elite Wireless Controller Series 2 is the pinnacle of official Xbox controllers, offering a premium gaming experience for enthusiasts. Unlike the default Xbox Wireless Controller, it boasts a range of advanced features, making it the top choice for dedicated players.
The Series 2 impresses with its sleek, comfortable, and weighty design. It arrives with a hefty carry case, a wireless charger pack, a USB-C cable, and various buttons. The matte black controller features rubberized grips for enhanced comfort. Notably, it offers customizable analog sticks and D-pad buttons, allowing users to tailor their gaming experience. Additionally, it introduces a built-in battery, a notable improvement from its predecessor.
In terms of performance, the Series 2 excels with rapid response times and adjustable stick and trigger tensions for precise control. Its standout feature lies in the extensive customization options, both in software and hardware. The Xbox Accessories app allows for fine-tuning, from stick sensitivity to button mapping. However, for some, the multitude of options may be overwhelming.
While its price may deter casual gamers, for those seeking the ultimate Xbox controller, the Series 2 is unparalleled. Its premium build and performance justify the investment, ensuring an unrivaled gaming experience across Xbox Series X|S, Xbox One, and PC.
4. Victrix Gambit – Best Customisable Xbox Controller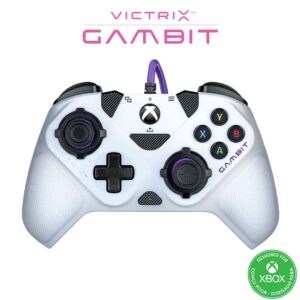 The Victrix Gambit stands as the epitome of customization for Xbox Series X|S controllers, tailored to meet the demands of tournament and Esports players. It offers a wired connection, potentially enhancing response times, especially crucial in multiplayer settings. Boasting an impressive 14 swappable parts, it provides extensive customization options, rivaling even the Xbox Elite Series 2.
In terms of design, it mirrors the form factor of the standard Xbox Wireless Controller, ensuring a comfortable grip. The inclusion of a sleek carry case housing various modules allows for easy customization. Owners can choose from different faceplates, thumbsticks, thumbstick gates, D-pad designs, and more. While not matching the premium build of the Elite Series 2, the Gambit's modularity is intuitive and user-friendly.
In terms of performance, the wired connection minimizes input lag, delivering rapid response times. The face buttons offer swift and tactile feedback, akin to the 8BitDo Ultimate controller. The analog sticks, though slightly stiffer than the Elite Series 2, provide satisfactory control. Trigger sensitivity may require adjustment, but the rear lock switches offer a solution.
The Victrix Gambit is the go-to choice for gamers seeking a highly customizable Xbox controller without the premium price tag. Its versatility and responsiveness make it ideal for competitive play, especially in FPS and fighting games. For those valuing customization, the Gambit is a top-tier option.
5. Razer Wolverine Ultimate – Best Xbox Wired Controller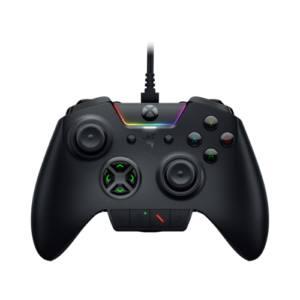 The Razer Wolverine Ultimate emerges as the quintessential wired Xbox controller, tailored for the discerning hardcore gamer. it outshines even Microsoft's Elite controller with its striking design and robust functionality. Adorned with Razer's signature Chroma RGB lighting strip, it seamlessly blends style and utility. However, it's worth noting that compatibility is limited to Windows 8 and 10 on PC, lacking support for Windows 7.
While the controller excels in performance, boasting highly responsive ABXY buttons reminiscent of a mouse click, it falls short in swappable components. With only one convex thumbstick compared to three concave ones, the balance seems amiss. Yet, the d-pad options offer practical alternatives. The inclusion of extra rear buttons, trigger-stoppers, and macro paddles enriches the gaming experience, especially in fast-paced titles.
Despite its wired nature, the Wolverine Ultimate's meticulous design shines through. Interchangeable buttons, media control keys, and a 3.5mm audio jack enhance functionality. The Razer Synapse software for Xbox One further elevates customization, allowing remapping and profile cycling. While lacking wireless capability, this controller caters to the dedicated gamer seeking unparalleled performance and a touch of style. It may not suit casual or long-distance gaming, but for the hardcore audience, the Razer Wolverine Ultimate stands as an exemplar of precision and aesthetics.
In Conclusion…
Without controllers, you definetely cannot play games. Having the right controller for your need and budget is something to really consider. While there is no perfect controller, identifying your need and budget is a great way to get the controller that is right for you. We hope you found this guide helpful? If you did, kindly leave a comment, and don't forget to share…