The best gaming laptops deliver a great deal of power. Modern titles demand a lot from a computer, and if you don't have capable components to handle such demand, your gaming is such to lag or face other issues. Gaming is something that requires speed, promptness, and smooth experience, so getting capable rig is important to enjoy the gaming process. Nowadays, there are portable machines that can handle demanding titles. In this guide, we look at the best of them. Lets dive right in…
Asus ROG Strix Scar 16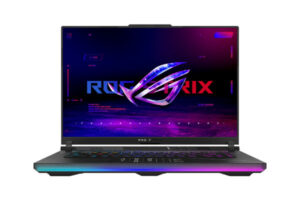 The ROG Strix Scar 16 is one of the best gaming laptops on the market. The laptop has one of the best screens you'll find in a gaming laptops. Colours display beautifully, and are Vibrant. The ROG Strix Scar 16 boasts of high-end components that delivers excellent gaming. Under the hood is a processor up to an Intel i9 CPU with a RTX 4090 GPU. This combo is enough to power any game. Testing the Intel i9 and RTX 4080 rig showed a 17,611 Time Spy score and 32,876 Fire Strike score. With the specs, you can enjoy 5 years of gaming even when newer titles are released.
2. Alienware M15 R7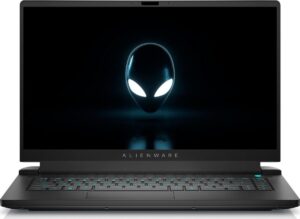 When you talk of powerful gaming machines, the Alienware M15 R7 is a solid option. Though it is bulky, and heavy, it is a good choice if you can sacrifice those for excellent performance. The laptop has a great design from the 15 watermark at the back, to the slim bezel design on the face, to the matte finish. The performance of this machine is breathtaking. The laptop boasts of 12th generation Intel Core i7 as well as a RTX 3070 Ti graphics card. This combo delivers a mind-blowing gaming. The laptop didn't pose any problems with heavy titles like Metro Exodus.
3. Asus ROG Zephyrus G14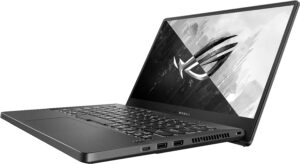 Z
ASUS ROG Zephyrus G14 is another solid laptop for gaming. At just 3.79 pounds and 0.77 inches thick, it is suitable for gaming during travel. It is a portable laptop that won't take too much space. The laptop delivers impressive frame rates. You get a processor of up to AMD Ryzen™ 9 4900HS with 16 threads. That's not all, there's also a NVIDIA® GeForce® GTX 1660Ti GPU with Max-Q Design. That's solid power with the combo. Futhermore, it sports 16GB RAM as well as 1TB SSD for storage. It boasts of a battery that can last all day. There's also a webcam to add some great experience to your gaming.
4. Acer Nitro 5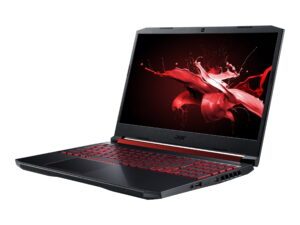 If you want a budget gaming laptop, then there's the Acer Nitro 5 for you. The Acer Nitro 5 boasts of high end components that you can have in a laptop that would deliver smooth gaming. Although there are some compromises because of the price, it is still a solid laptop. It has a plastic chassis which is one of the features sacrificed, but this makes it weigh only 2.3kg making it one of the lightest gaming laptops on the market. With the RTX 3060 GPU coupled with a Ryzen 5800H, you can expect excellent gaming performance. The laptop is capable of hitting 86fps on a game like The Division.
5. Razer Blade 14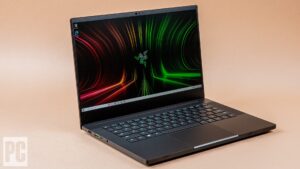 Razer Blade is solid in about every area. It boasts of powerful components inside that give your game all the power it needs. It features a machined metal chassis which gives it a lovely aesthetic. The screen of the Razer Blade 14 is vibrant and bright adding again to its aesthetic. Testing and benchmarking showed that the Razer Blade 14 gave off solid performance and does better than other laptops. For example, playing Cyperpunk 2077 was smooth even on high settings. You might be wondering how a thin laptop like the Razer Blade 14 handled cooling. We are here to tell you it handled it well. Even when it gets hot in demanding gaming sessions, it wouldn't slow down.
Rounding Up…
Gaming is an industry of its own. And except you don't want to be a professional gamer, but an hobbyist gamer, you need a solid rig. Year in, year out, the demand for more capable hardware increases because new titles get released, so you want to have a rig that can serve you for a good amount of time. This guide has provided a list of solid laptops. We hope you found this helpful? If you did, kindly leave a comment, and don't forget to share…