In the realm of digital artistry, the right drawing tablet becomes your canvas, bringing your creative visions to life with every stroke of the stylus. Whether you're a budding artist or a seasoned pro, these tablets offer a seamless platform for customization, ensuring your artwork stands as a testament to your unique expression.
From pen displays with their own vivid screens to tablets seamlessly integrated with external monitors, the options are diverse. Each one presents an opportunity to embark on a creative journey tailored to your preferences. Join us in exploring the finest drawing tablets, designed to empower artists at every skill level.
Wacom Intuos Pro – Best Drawing Tablets for Pros
The Wacom Intuos Pro emerges as the top choice for professional artists, boasting a suite of powerful features. Before use, driver and firmware installation are imperative, streamlining the tablet's functions to personal preferences through the Wacom Desktop Centre. Customization options abound, from on-screen controls to ergonomic orientation settings for both left and right-handed users. ExpressKeys and touch ring functions provide convenient shortcuts, rivaling keyboard hotkeys for efficiency. While there's a learning curve, this underscores its professional-grade capabilities. The medium version balances a compact footprint with an expansive active area, offering flexibility in placement. The wireless capability via Bluetooth 4.2 minimizes desktop clutter. The Wacom Pro Pen 2 impresses with responsiveness, though initial sensitivity adjustments may be needed. It excels in various creative applications, exhibiting minimal lag and providing excellent pressure sensitivity. The pen's ergonomic design ensures comfort during prolonged use. Despite a minor issue with the pen stand's grip, the Intuos Pro's performance and portability make it a stellar choice for discerning artists.
2. Huion Kamvas Pro 12 – Best Budget Drawing Tablet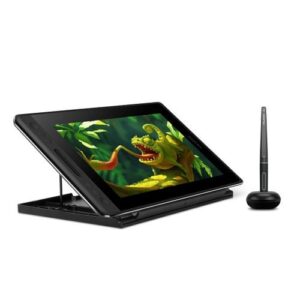 The Huion Kamvas 12 stands as a budget-friendly gem. It boasts impressive drawing performance, thanks to the PW517 pen, which offers both accuracy and sensitivity on its matte surface. However, the 11.6-inch diagonal drawing area might feel slightly confining for artists accustomed to more expansive displays. It's worth noting that a stand and USB-C cable are sold separately, potentially adding to the overall investment. While UI elements may appear diminutive due to the screen size, the tablet excels in line quality and pressure sensitivity, delivering a satisfying drawing experience. For those yearning for a larger canvas, the Huion Kamvas 13, available at a slightly higher price point, offers a more spacious drawing area. Ultimately, the Huion Kamvas 12 is a solid choice for budding artists or those seeking an economical entry into digital drawing, providing commendable performance without breaking the bank.
3. Wacom Cintiq – Best Drawing Tablet for Students
The Wacom Cintiq 16 offers an affordable gateway into professional digital artistry, making it an ideal choice for students. While it lacks touch functionality, it caters excellently to digital sculptors, and the omission is justifiable considering the substantial cost difference. This model targets artists transitioning from an Intuos tablet, providing a cost-effective alternative to the pricier Cintiq Pro line. Though it doesn't boast UHD resolution or multitouch control, its build quality rivals higher-end models. It may not match the portability of a Surface Pro or iPad Pro, but it delivers a capable pen display experience. For cash-conscious creatives, the Wacom Cintiq 16 stands as an appealing option, especially given its compatibility with industry-standard drawing tools widely used in animation and special effects studios. It's a must-have for students seeking a reliable and budget-friendly entry into digital art.
4. XP-Pen Artist 16 (2nd gen) – Best Value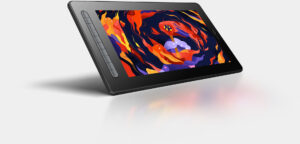 The XP-Pen Artist 16 (2nd gen) is a budget-friendly drawing tablet that doesn't compromise on features. Priced significantly lower than competitors like Wacom Cintiq 16 and Huion Kamvas 16, it offers a Full HD vibrant color display with anti-glare coating and a wide color gamut of 120% sRGB. This tablet provides an excellent drawing experience, with an accurate stylus offering 8,192 levels of pressure and 60-degree tilt support. However, setup and calibration can be a bit finicky, especially for ChromeOS and Android users who'll need to purchase a separate USB-C to USB-C cable. Additionally, the absence of an included stand is a drawback. Despite these minor drawbacks, the XP-Pen Artist 16 (2nd gen) stands out for its affordability and impressive performance, making it one of the best value drawing tablets in its class. 
5. Apple iPad Pro – Best iPad for Drawing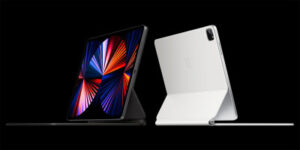 The iPad Pro, paired with the Apple Pencil, stands out as a powerful drawing platform. The Pencil's sleek design promotes a comfortable grip, mimicking a traditional pencil's hold. Despite its minimalistic features, the Apple Pencil matches industry-standard pressure sensitivity. The iPad Pro's glass screen offers an incredibly smooth drawing surface. While it may require a brief adjustment period, artists appreciate the fluidity of the Apple Pencil. The 12.9″ iPad Pro's 2732×2048 resolution caters well to portrait-oriented work, though direct sunlight may pose visibility challenges.  Clip Studio Paint and Procreate serve as robust painting software options. For artists in search of a portable solution, the iPad Pro offers an unparalleled choice. Its lightweight design and versatility make it an invaluable tool, especially for those frequently on the move. Though adjustments in peripherals and software may be needed, the iPad Pro ultimately delivers a professional-grade drawing experience.
Rounding up…
In our exploration of drawing tablets, think of them as digital canvases. Whether you're new to art or a seasoned pro, these tablets are where your ideas come to life. Some have screens, while others connect to monitors. We've made it simple for you, offering a selection that suits every skill level. So, grab your stylus, let your creativity flow, and turn your vision into art. It's in your hands now!