How to Turn on Camera on Google Meet
Google Meet is Google's solution to virtual meetings and it has been used more than ever before in this times. The video-conferencing platforms offer various features that gives you a great experience with virtual meetings. Whether you have a meeting for work or a conference, Google Meet should meet your need.
When using Google Meet, you want to make sure you know how to use the tools in it, so that you don't flop while having an important meeting. In this article, we'll be looking at the how to turn the camera, mute and unmute yourself.
You'll want to use Google Meet majorly on Google Chrome because the platform is optimised for the browser.
Here's how to turn on the camera for a Google Meet meeting
There's always a first Google Meet call you'll have and if you're just having this meeting, you'll need Google Meet to have access to your camera and microphone.
If for example, you're just having your first call, Chrome will prompt you to allow access to use the microphone and camera. Simply click Allow when you see this prompt. And that's all.

How to Turn On the Camera in a Google Meet Meeting
1. Go to Google Meet. Join a meeting or start a New Meeting
2. The New Meeting further has two options: to start a meeting immediately or to schedule a meeting.
3. You can even add people to the meeting or send invite link to prospective participants.
4. When you start the meeting, you can change the camera resolution especially in the case of poor network connection.
There are two options of video quality to choose from: Standard definition (360p) and High Definition (720p). If you like, you can turn off the camera and leave only video.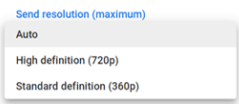 How to Mute & Unmute yourself on Google Meet
1. You'll need to first open up the Microphone toolbar. To bring it up, place your mouse cursor or tap on the bottom edge side of Google Meet. This will cause the tool bar to pop-up.
2. The toolbar has three large buttons in the center. The first button will allow you to mute your microphone when you click it.

3. When you do the above, the microphone icon will become red. When it is like this, whatever you're saying won't be heard. Also, everyone on the call will receive a notification that you mute yourself.
4. To unmute yourself, simply click the microphone button again and your voice will be heard.
Rounding Up…
Turning on your camera or muting your microphone may be some of the basic things to do on Google Meet, but if you don't know how to do them, it can cause problems in your meeting, so it is important to know how to do it. We hope you found this helpful? If you did, kindly leave a comment and don't forget to share.
You can also check out
How To Edit A Zoom Recording
How to Change your Background in Zoom
How to Change Your Name in Zoom Before a Meeting
How to Change Your Name in Zoom During a Meeting
How to Add Photos on TikTok
How to Know Those That Viewed Your Profile on TikTok
TikTok: How To Edit A Video Caption After Posting
How to Check NIN on MTN, Glo, Airtel and 9mobile
DStv Subscription Package, Prices with Channels
Startimes Subscription Package, Prices, And Channel List For Each Plan
GOtv Subscription Package GOtv Max, Jolli, Jinja and Lite Channel List and Price
GOtv Assigned Channel Number with Channel
GoTV Customer Service Contact, Social Media Handle & Email Address
StarTimes Customer Care Contact, Social Media Handle & Email Address
Top 5 Best Web Browsers for Android
Top 5 Best Music Player Apps for Android
Top 5 Best Alarm Clock Apps for Android
Top 5 Best eBook Reader Apps for iPhone and iPad
Top 4 Best VPN Apps for iPhone and iPad
Top 5 Best Apps for Monitoring Data on iPhone and iPad
Top 5 Best Translation Apps for iPhone and iPad
Top 5 Best Alarm Apps for iPhone and iPad
Top 5 Best Calendar Apps for iPhone and iPad
Top 5 Best Photo Editing Apps for iPhone and iPad
Hope with this, you have learnt How to Turn on Camera on Google Meet.
Please share and like below, also comment below for any problem faced or encountered.