If you were used to computer much earlier than now, you'd have used Microsoft office tools, the popular ones from it which are Microsoft Word and Microsoft Excel. These tools are not the same as they were 15 years ago and there have been drastic changes to them.
But more is that other tools have also been made available by other software company, one being Google Docs & Sheets (among the other office products). The software giant has even gone farther in making it possible to be used from the cloud.
If you just started using Google Sheets, and you've not figured your way around, you may not yet know how to copy sheets. In this guide we'll show you how:
How to Copy a Spreadsheet in Google Sheets
Google Sheets allows you to copy spreadsheets. You have the freedom to copy to either a new or existing spreadsheet.
Copy a Sheet to a New Spreadsheet
1. Click the arrow for the specific sheet you want copied
2. Next, place your mouse on Copy to and then, select New Spreadsheet.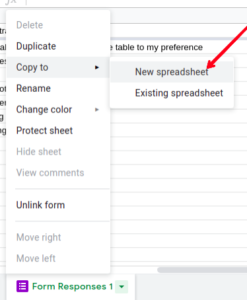 In a little moment, a message will be displayed that the action was successful.
The new spreadsheet will be named the default name: Untitled Spreadsheet.
Copy a Sheet to an Existing Spreadsheet
1. In the tab, click the arrow beside the sheet
2. A pop-up will appear. Simply place your cursor on Copy to, and then select Existing Spreadsheet.
3. A window will appear. There, select the spreadsheet in Google Drive. You can search for the spreadsheet using the Search box or you can use the My Drive, Shared With Me or Recent option at the top to navigate to the sheet.
4. When you've located the sheet file, hit Select and it will be copied to that existing workbook.
You'll see a message telling you it has been copied successfully.
Any sheet you copy to an existing spreadsheet will still bear the name of the original spreadsheet but will have "Copy of" before the original sheet name.
Copy a Sheet to Current Spreadsheet
Google Sheet also allows you to copy a sheet within the same workbook. Find out how in the guide below:
1. Click the arrow for the tab section of the sheet. After that, click Duplicate.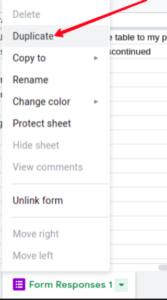 Once you do that, a copy of the sheet is placed at the right hand side of the original sheet and the duplicated sheet will bear the original sheet name but with "Copy of" in front.
How to Move a Spreadsheet in Google Sheets
If you simply want to move a spreadsheet, Google Sheets allows you to do that. You either move a sheet left or right.
Move a sheet by clicking the arrow in the tab for the sheet. Next, select either Move Right or Move Left depending on where you want it placed.
If you want to move a sheet fast, simply click and hold the tab and drag to the new position and then release it.

Rounding Up…
There will be times when you'll need to do that Copy or Move action. In a case when you really don't want to start all over again inputting data (who does, really?) just to have a duplicate, Copy is your friend then. We hope you found this guide helpful? If you did, kindly leave a comment and don't forget to share.