How to Let Chrome Automatically Open Downloaded Files
The Chrome Browser is that web browser that is loaded by lots of features Google thought to include to give you a better experience while browsing. The truth is that you may never even know up to one-third of the features let alone know how to use it, but they are there.
One of such features is the ability to "automatically open files you downloaded". This can prove very useful in a case when you don't want to make much clicks or you are an automation fan. In this guide, you'll learn how to enable this feature.
Automatically Open Download Files in Chrome
It is easy to set Chrome to automatically open files that you downloaded. Here's how:
1. Launch Chrome on your computer. Download the file you wish to save to your computer.
2. Wait as the download happens and make sure it fully completes. You should see "Finished" in the Downloads bar when this happens.
3. Next, click on the little arrow beside your download. It will bring out some option. Select "Always Open Files of This Type" Doing this will bring up a checkmark.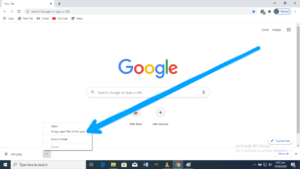 When you do the action above, Chrome will always automatically open files that are of that type in future.
File Types that Cannot Be Opened Automatically
Chrome seeks to protect you from malware and other malicious files, so it would be wary of what it will open for you automatically. That said, you'll find that Chrome won't open some files automatically as it marks them as Potentially dangerous.
You can actually open these types of files once downloaded, but not through Chrome. You'll need to locate it in your storage folder and then open it from there. So in other words, you will be opening it manually.
Also there are some types of files that cannot be automatically opened. They have a particular file extension. File types in this category include .zip, .exe, and .bat files.
How to Change the Download Folder in Chrome
Sometimes you'll need to manually open files or you'll want to have a specific folder you created for your downloads. With these scenarios, you'll need to change your download folder. Chrome usually stores your downloaded files in a default Downloads folder but you can change that. Here's how:
1. Launch Chrome. You can only do the above in the settings section of Chrome. So you'll need to get to Settings.
2. Begin by clicking on the three vertical dots and then click Settings.
3. Next, move down the screen until you get to Advanced. Click Advanced.
3. Move down the screen until you get to the Downloads tab.
4. In the Downloads tab, there are two options. First is Location which is the folder where all files downloaded are stored.
5. To change the folder that Chrome will save your files subsequently, click Change.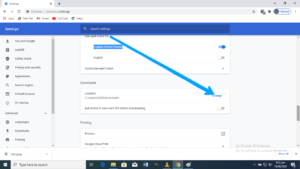 6. Next, select the folder you prefer and that's all.
Rounding Up…
If you don't want to waste time trying to open files manually each time Chrome downloads them, then this feature is definitely for you. Meanwhile, watch out when you download files Chrome marks as potentially harmful; you don't want a malware lurking around in your system. We hope you found this guide helpful? If you did, kindly leave a comment and don't forget to share.