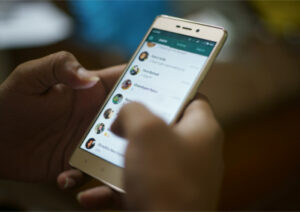 WhatsApp is undoubtedly the most popular social messaging platform, and many people use it to send messages, multimedia and do business. You have someone on your list that's been ignoring your messages or doesn't reply? He/She might have blocked you! So how do you know? By employing the tricks below, you can know if you've been blocked by someone on WhatsApp. We also have a bonus here on how to block a contact on WhatsApp.
Tricks to Knowing If You've Been Blocked on WhatsApp
Check Last Seen
You can know if a contact has blocked you by checking their last seen time. If you don't see their last seen time, it might be that he/she has blocked you. This method is however not 100% guaranteed because WhatsApp allows people to hide their last seen and this may be the case of the contact you think has blocked you.
2. Send Messages
Another way to know if a contact has blocked you is by sending a message to the said contact. If you've probably been blocked, WhatsApp will show you a single tick beside the message instead of double blue ticks. You can't be double sure though because there's a trick to view messages without going online, which may make you see a single tick. Should you see double ticks, you definitely have not been blocked because the message has been delivered to the recipient's device.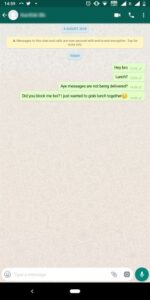 3. Check the Person's Profile
If what's on your contact's display picture is the same old picture that has been there for a long time, there's a probability that you have been blocked. When people haven't blocked you, you'll be able to see their display picture changes or new statuses. This is also not a guarantee, because people can hide their display picture as well as their statuses on WhatsApp.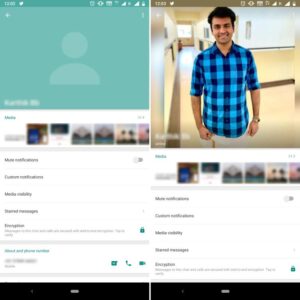 4. Make a Call
WhatsApp will send a call notification whenever you place a call to someone on WhatsApp. But, if your phone continues to dial the number and they never pick up, it is a sign that they might have blocked you. Again, you can never be too sure, because these persons might be genuinely busy.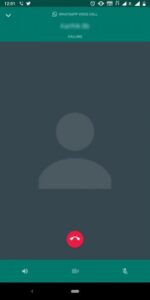 5. Add the Contact to a Group
This is the most guaranteed trick to know if someone has blocked you. Create a faux group and try adding the person to the group. If you get a message saying "Couldn't add contact", it means that particular contact has blocked you.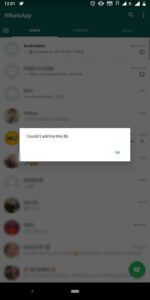 How to Block a Contact on WhatsApp On iOS
Go to your chat window with them, navigate to the top and tap their name.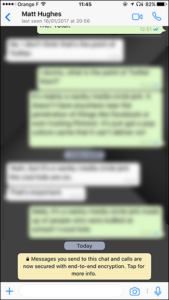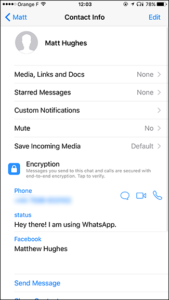 2. Move down the screen and locate Block this Contact. Tap this button.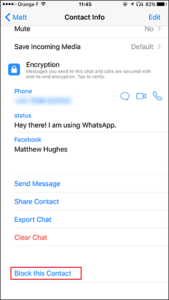 3. Tap Block again so that you confirm your block action.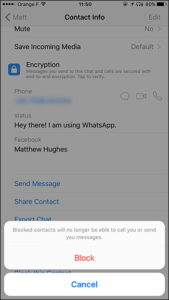 You can also block contacts by going to Settings > Account > Privacy > Blocked.
From here, you'll be able to see a list of contacts you've blocked so far. Tap Add New and the search box will come up for you to search for the contact you wish to block. When you've gotten them, add then to the blocked list.
How to Block a Contact on WhatsApp On Android
You can block on Android by going to the person's chat window, and tapping on the three dots that is present at the top right corner. Tap Block and confirm. And that contact will be blocked.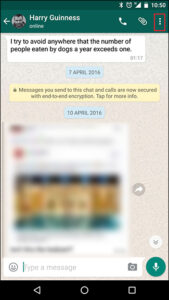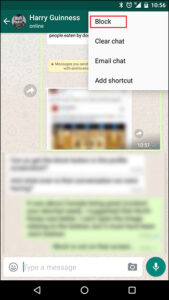 On Android, you can also block people by going to Settings > Account > Privacy > Blocked Contacts, tapping the add button and performing a search for the contact you want to block, just like on iOS we talked about above.