You will need to connect to a internet if you want to make the best use of your smartphone. WiFi is one technology that that let your connect your device to the internet. It is a popular method of getting your phone connected. With many WiFi hotspot that could be scattered around a town, it is also important you get a WiFi Analyzer to get the best experience while connecting your device. These WiFi tools can come in handy when you want to get certain details that can inform your decision of which WiFi network to choose. In this guide, we explore the best WiFi tools for iOS
Fing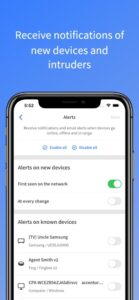 Fing is one of the outstanding WiFi apps for iPhone and iPad. With the app, you get cogent details about your WiFi connection. Not only that, you can check internet speeds, ISP ratings and even discover WiFi hotspot around your area. The app also helps you to identify the devices connected to your network, so that you can fish out devices secretly connected to your WiFi. There are also basic tools in Find like port scanning, ping, traceroute, DNS loookup and more.
2. WiFiMan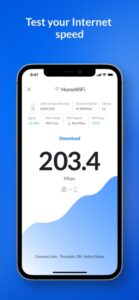 The developer of WiFiMan, Ubiquiti is an household names in the world of network devices. They also have WiFiMan as an app for analysing WiFi connections. WiFiMan is an easy-to-use app. Although it has many features, you can easily navigate your way around it. WiFiMan uses Bonjour and SNMP to do a deep scanning at a subnet level. This way, you get detailed information about any WiFi network you are connected to. The app will give you details such as speed, latency and more.
3. Network Analyzer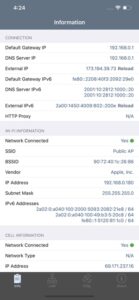 When you want things advanced, you should try Network Analyzer. It has advanced diagnostic tools that works for network related operations. Network related problems can be detected as you can get the geo-location data of connected devices, do a ping test, and DNS lookup. Through the app, you will get information about a network such as IP address, DNS server, HTTP proxy default gateway, DNS server, SSID, and BSSID and more. With the app, you can get information about cellular networks as well.
4. WiFi SweetSpots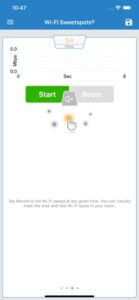 WiFi SweetSpots does the WiFi analysing job well. The app has a simple interface, and you can easily navigate around. It not only analyses WiFi, it also works as an internet speed checker. You will get details from the app that can help you with the right way to improve your connection. Witj WiFi SweetSpots, you can check for fluctuations in your WiFi connection. The app will even let you know your network provider's true speed and you can know if it is the speed they advertised. The app allows you know spots that offer slow connections in your home.
5. NetSpot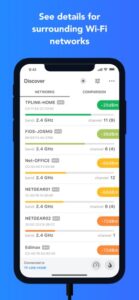 NetSpot is another brilliant app for analyzing WiFi parameters. With the app you can get details of your network such as network name, security protocol, signal strength and more. NetSpot allows you to measure the speed of the network provided by your cellular provider. Not only that, it will also allow you to know the download speed of your internet network. There's also provision for ping details. You can go a step further by comparing your present ping and download speed with that of previous measurements.
Rounding Up…
As a geeky person, you can't go wrong with the WiFi analyser listed here. The best of analysers don't just give you basic details, they go in-depth letting you have access to rich information that can improve your WiFi connections. We hope you found this guide helpful? If you did, kindly leave a comment and don't forget to share…