5 Best Web Browsers for iOS 2021
The necessity of a web browser on a smartphone cannot be overemphasized. It continues to be one of the main apps we use on our phones. The Apple App Store features many web browser apps that are quite good with most having one or two unique features. Whether you need a browser that helps you block ads or one that has the fancy features you love, you can always find one that fits your needs but it can be hard to get just that one among the many apps available. We have here the 5 Best web browsers for iOS.
1. Safari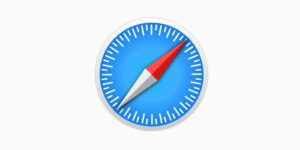 Safari is the built-in browser for iOS devices. Since it is by Apple, it feels natural to use it alongside other iOS apps and features. Safari is a part of the Apple ecosystem, so if you want all things Apple, then this may be your best bet. One cool feature it has is its ability to let you have a shortcut icon for any webpage on your home screen. You also have incognito mode that lets you browse the internet privately. Then, there's the Reader Mode that creates simple text pages out of busy websites. With the Reader Mode, you can easily read those pages easily. Coming to security, it features iCloud Keychain which keeps your password securely for use across your devices.
2. Google Chrome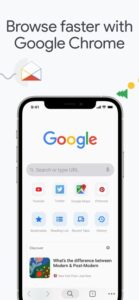 Google Chrome is a very popular choice when it comes to browsers. It is loaded with almost all features you'll need in a browser. It boasts of cross-platform capabilities which lets you sync your browsing data and acesss them on all your devices. There are also a bunch of tools that enhances your browsing experience. For example, you have the Reader Mode which lets you read blogs easily by removing distractions. It is integrated with Google Translate which gives you the ability to translate text from one language to another. You also have Google Voice Search that allows you to use just your voice to perform a search.
3. Mozilla Firefox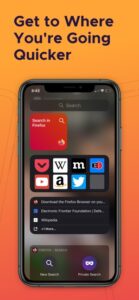 Firefox is a great alternative to Safari when it comes to privacy. Firefox is focused on privacy and blocks more than 2,000 trackers. The Private Mode is also available for you if you want more privacy. Firefox also works cross-platform having apps for all platforms. All you need do is go create a account, and then sync your browsing data and passwords across your devices. Though the syncing of tabs and bookmarks aren't as seamless as Safari or Chrome, it still delivers well in other departments. You can use Face ID or Touch ID to secure the app.
4. Opera Touch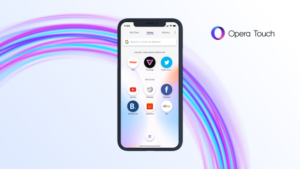 Opera Touch isn't on par with Chrome and Safari, but when it comes to fast browsing, you can always count on it. Also it does not take up resources like them. The app boasts of voice search which is a convenient feature when you need to search something quickly. Another things it features is smart barcode scanning which allows you to search for a product online via its barcode. Opera Touch boasts of end-to-end encryption to secure your browsing. There's also an ad blocker that is efficient in blocking ads that obstruct your browsing.
5. Yandex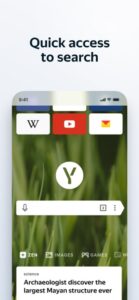 Yandex is a Russian browser that has its search tool powered by the Yandex search engine. This also brings along some great features. You have shortcut buttons that get you to your favourite sites quickly. There's also the Turbo Mode feature that speeds up downloads even when you're connected to a slow network. The technology in charge of this compresses data and images. It also boasts of a infinite newsfeed called Zen that tailors news for you according to your interests.
Rounding Up…
Great web browsers help you to connect to the internet and have various features to give you a good browsing experience. From basic features which you'll find on all browsers, fancy features, to advanced features, there will be a browser that fits you need. If you found this guide helpful, leave us a comment and don't forget to share.
You can also check out
How to Enable Dark Mode on Telegram
How to Download Music from Spotify
Best Keyboard Apps for Android
Top 5 Best Web Browsers for Android
Top 5 Best Music Player Apps for Android
Top 5 Best Alarm Clock Apps for Android
Top 5 Best eBook Reader Apps for iPhone and iPad
Top 4 Best VPN Apps for iPhone and iPad
Top 5 Best Apps for Monitoring Data on iPhone and iPad
Top 5 Best Translation Apps for iPhone and iPad
Top 5 Best Alarm Apps for iPhone and iPad
Top 5 Best Calendar Apps for iPhone and iPad
Top 5 Best Photo Editing Apps for iPhone and iPad
Hope with this, you have learnt the 5 Best Web Browsers for iOS 2021.
Please share and like below, also comment below for any problem faced or encountered.