TVs are one of the first items you notice when you enter a home. TVs have become one of the necessary-to-have when moving to a new house or apartment. Watching a TV can serve various purposes: entertainment, source of information, helping to relieve stress and more. Whatever your reason for owing a TV, you want to buy a great TV, and as such you'll need to know the best TV brands. In this guide, we cover the best TV brands in Nigeria…
1. LG
LG is arguably one of most popular used TV brand in Nigeria. A manufacturer of most home electronics, the brand is trusted by many home and offices. LG makes and designs varieties of TVs including LED, OLED, Smart TVs, QNED. What's more, it has TVs in the higher-end category such as 4K, 8K, Ultra-high definition TVs. TVs from LG boasts of brilliant Picture quality, smooth motion, vibrant sound, and more. Their TVs also features slim design, great viewing, and are also durable. With the range of smart TVs that LG offers, you can connect your TV to the internet and stream movies from platforms like Netflix, Hulu, and YouTube.
Checkout Lowest Price On Jumia
Checkout Lowest Price On AMAZON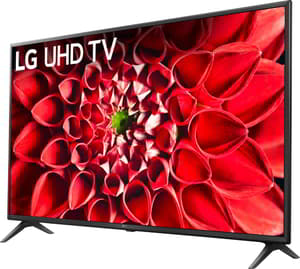 2. Samsung
Samsung also offers great TVs. The North Korea giant has a variety of TVs ranging from QLED, Neo QLED, and Lifestyle TVs. Samsung TVs boast of cutting-edge image quality, quality color, and outstanding sound. Not only does it have these features, it is also durable. Sport fans, movie lovers and gamers use this TV because of all these features. There are also Smart TVs from Samsung that have many smart features and the ability to use interactive web features. Although Samsung TV products can be expensive, but you can get quality results for the money. What's more, they have support centers scattered around the country that you can lay complaints, and claim warranty.
Checkout Lowest Price On Jumia
Checkout Lowest Price On AMAZON
3. Sony
Sony is a brand that does not only make TVs but manufacture a wide range of consumer electronics such as Home Theaters, Cameras, and more. Sony makes and designs several TV types such as LED, fully array LED, OLED and more. These TVs provide a wide range of picture quality. There are also TVs that have 4K and 8K Ultra-high definition technology. There's the Bravia TV brand under Sony that is an array of TVs with top-notch quality. The Bravia brand is ideal for gamers and those that want optimum quality. Sony has a line of smart TV that use Android OS. The Smart TVs boasts of Assistive technology.
Checkout Lowest Price On Jumia
Checkout Lowest Price On AMAZON
4. Hisense
With Hisense TV, you get nearly all the features that you will want to enjoy a TV. Hisense makes TVs of budget prices, so you don't have to break the bank to get a great TV. Their TVs comes in different sizes and use various technology like UHD, ULED, FHD, LED, 4K among others. You'll find some great features Hisense TVs like Wide Colour Gamut, Dolby Vision HDR, UHF Upscaler, and more. What's more, Hisense designs their TVs in an excellent and sophisticated way. You can trust TVs from Hisense to be reliable and you will be able to use it for a long time.
Checkout Lowest Price On Jumia
Checkout Lowest Price On AMAZON
5. Panasonic
Panasonic has been long in the game of TVs. They are notable for producing TVs back in those days. Panasonic TVs are durable and last a long time. You get sharp details from the screen, as well as brilliant colors. There the Viera TV products line from Panasonic that is a set of TV with high-level technology. These TVs boasts of 4K Picture, with four times more pixels than HD. This helps you get sharp and crystal clear visiuals. There are also TVs in Panasonic line of products that are Smart TVs based on Android. Panasonic TVs are energy friendly and power efficient.
Checkout Lowest Price On Jumia
Checkout Lowest Price On AMAZON
Rounding Up…
Whether you're a gamer or a movie lovers, having the right TV can determine if you will enjoy the experience of your games, and movies, or not. The quality of TV you buy can depend on the manufacturer themselves. Some are known for more quality products, others are known for their features, and some their affordable price. We hope you found this guide helpful? If you did, kindly leave a comment and don't forget to share…
You can also check out
Startimes Subscription Package, Prices, And Channel List For Each Plan
GOtv Subscription Package GOtv Max, Jolli, Jinja and Lite Channel List and Price
GOtv Assigned Channel Number with Channel
Top 5 Best Web Browsers for Android
Top 5 Best Music Player Apps for Android
Top 5 Best Alarm Clock Apps for Android
Top 5 Best eBook Reader Apps for iPhone and iPad
Top 4 Best VPN Apps for iPhone and iPad
Top 5 Best Apps for Monitoring Data on iPhone and iPad
Top 5 Best Translation Apps for iPhone and iPad
Top 5 Best Alarm Apps for iPhone and iPad
Top 5 Best Calendar Apps for iPhone and iPad
Top 5 Best Photo Editing Apps for iPhone and iPad
Hope with this, you have learnt about 5 Best TV Brands in Nigeria
Please share and like below, also comment for any recommendation. Thanks