Your Android device is capable of doing many powerful things. Gone are the days we only had phones for calling, and nothing more. In this digital age, our smartphones can perform many functions such as playing music, browsing the internet, taking photos and videos, and scanning also.
You don't have to use a scanner anymore to scan files and documents. With your smartphone, you can do this anytime and anywhere. In this guide, we cover the 5 best scanner apps for Android.
1. Adobe Scan
One of the best scanner apps for Android is Adobe Scan. With it, you can scan notes, receipts and documents, and get them converted to PDF. Just by pointing your phone's camera at the document, you can get it scanned. It will let you arrange pages according to how you want it. It boasts of OCR that will allow you reuse scanned content. Adobe Scan has ability to scan multiple pages and combine them into a single file. It features color correction and clean up too. The app can allow you to share your document through various mediums such as the cloud or email.
2. Microsoft Lens
One of the best scanner apps for Android is also Microsoft Lens. It has categories such as Whiteboard, Document, and Business Card that can create scans for this purposes. The OCR is an excellent one extracting text with great precision. Even with handwritten notes, Microsoft Lens will extract the text to an high degree of accuracy. Its OCR capability is robust allowing you to use various modes to capture from business cards, tables and more. Because it is a Microsoft product, it works with other Microsoft Office apps very easily. You can scan documents and convert them to using the Office Suite apps.
3. CamScanner
Another really powerful scanner app for Android is CamScanner. The app will scan your receipts, business cards, and even whiteboard discussions. You can extract text from your scans, all thanks to OCR which the app has. There are cropping and enhancement features that let your scans look better. There are a more features that give you a good-looking scan. Not only can you all these, you can also use the sharing options that allow you to share your documents via email or social media. Additional features include password protection, cross-platform syncing and annotations.
4. SwiftScan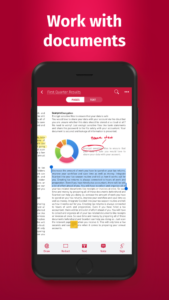 SwiftScan is a scanner app with many features. SwiftScan can produce clean scans that can be in a variety of document formats like books, business cards, and more. It boasts of customer folders, and smart file naming. There's support for OCR in a good bunch of languages. We can say the OCR capability isn't the best but it does a good job. There's also support for cloud storage, and it automatically uploading your document to your preferred cloud storage among the ones available.
5. vFlat
Yet another app that helps you scan documents is vFlat. It is rich with features and does its job well. You have the ability to import PDF files, do dual page book scanning and more. The scanner app has automatic edge detection as well as a center grid line which lets you align two pages easily. You can even import PDF documents and edit them. What's more? There's a finger removal tool which removes your finger if it mistakenly appears in the scanned image. The scanned images can be exported into PDF and JPG documents.
Rounding Up…
Scanner apps have made it easier to digitalise physical documents. You do not have to use that big scanning machine to scan. With your portable Android device, you can do this. We hope you found this helpful? If you did, kindly leave a comment and don't forget to share…