5 Best Music Streaming Apps for Android 2021
There's no doubt that everyone enjoys music. Maybe not the same kind of music but we all have a universal liking for music. Technology on its part has done much to bridge the gap between people and diverse kinds of music. So you don't have to go to a particular location to get their music; with music streaming apps, you can access music from all over the world. In this post, we highlight the best music apps for Android.
1. Spotify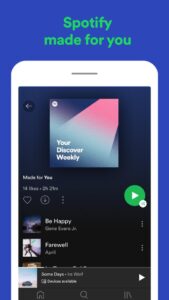 For the best choice of music, choose Spotify. Spotify boasts of a top-notch music discovery algorithm. Not only that it has an easy-to-navigate interface, you can easily find new artists and even old ones based on your activies on the app. You just have a low quality 96 Kbps streaming bit rate when you're on the free version but to get that up to like 160 Kbps, you'll have to subscribe with $10. Paying this gives you access to the premium version which allows you to stream up to 320 Kbps. You couldn't add more than 10,000 songs to your library previously, but that limit is no more as now you can add an unlimited number of song.
2. YouTube Music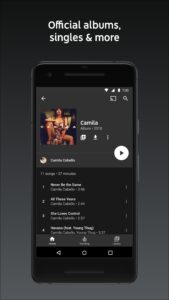 YouTube is a top choice when it comes to streaming videos, and has helped many artiste and entertainers gain exposure. Its sister service YouTube Music which was launched not too long ago is also a capable music streaming service. It has apps available for various operating system including Android. The app features great music collections and curates music content from various artists from around the world. Recall that YouTube brought many musician to limelight as the service is used by many people. Anyone can make music and host it on the platform and gain more reach. One of the great features of the app is that you can switch between audio and video of music.
3. Deezer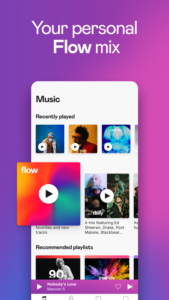 Another great app for streaming music on Android is Deezer. Featuring over 56 million songs, this music streaming app is one of the biggest music platform based on number of songs. It is not as robust as Spotify in the area of podcast but it does have live radio. It has an interesting feature known as SongCatcher that helps to identify songs that are playing around you. Another interesting feature is Deezer Flow that allows you to specify your music preferences and Deezer will tailor a music mix for you.
4. Tidal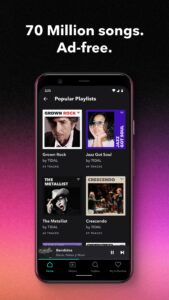 Tidal was the first to deliver what is known as high-quality lossless audio over streaming. Ever since its launch, Tidal has been adding songs to its collection. It even boasts of HD music videos. It also has a lot of features and is available cross-platform. It works with Amazon Alexa and Google Assistant as they integrate with they integrate well with the music platform. You can even make use of Tidal on-device lyrics to create your own karaoke. Even down to pricing, it delivers much value for less price at $6 for basic streaming access.
5. Pandora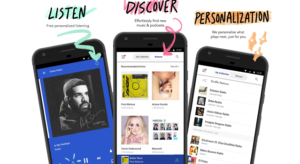 Pandora is also on the list of the best music streaming app for Android. The app which is popular has great offerings for music lovers. By just entering your favourite artist, Pandora curates and plays their song. What's more, Pandora also recommends songs based on your preferences. Pandora has the rate feature that allows you to like or dislike songs and will tailor recommendations based on this data. As time goes on, you'll find that the suggestions are improved because the app learns your taste over time. You can also bookmark your favourite artists which you can listen to later.
Rounding Up…
With music streaming apps, you can have a huge catalog of music on your Android device. The apps here deliver that with each having unique set of features that make them stand out. We hope you found this post helpful? If you did, kindly leave a comment and don't forget to share.