Manga is one of teenager's interest. Not only do teenager's read mangas, but some adults actively follow them. Manga is the comic books version of anime, a part of Japanese culture. Manga which originated from Japan is now getting out to the world as more and more people enjoy reading it. If you've ever wanted to read manga but don't have it available to you, this article has what you need. We provide you the best manga apps for Android…
1. VIZ Manga
VIZ Manga is an app that has the entire VIZ digital catalog. The app boasts of trending manga and comics. You get access to series like Dragon Ball Super, My Hero Academia etc. There are also cult classics such as Tokyo Ghoul, Vampire Knight and more. The app doesn't just stop there, it keeps adding more for you to consume. VIZ Manga allows you to build a large library of manga. This library is personalised and you can have all your favourite comics in one place. VIZ Manga also allows you to download books so you can read offline.
2. Manga Geek
Mange Geek keeps popular and great mangas in one place. Manga Geek has a large collection of comics. The app which has a great user interface packs over 40,000 mangas and comics. The mangas are always updated regularly. However you need internet connection to be able to access the mangas in the app. There are a lot of features that make the app a choice for users. The app is free to use and supports various languages. You get manga in English, French, Japanese, Spanish etc.
3. MangaToon
MangaToon is another great manga app. It is a very simple and easy-to-use app. The app boasts of a massive catalog of manga and comics that you can enjoy. The mangas cut across various themes. It features auto-chapter feature which can be handy when you need to catch the latest chapter of your favourite manga. You can read MangaToon in different languages as the app has a robust language support. You can get mangas in English, Portuguese, German, French, Japanese, Korean, Chinese, and a lot more.
4. Shonen Jump
This list will not be complete without mentioning Shonen Jump. You might have heard of the Shonen Jump series. If you love the titles from the series, then this app may be the one you want. You get all the Shonen Jump series titles including the popular ones like Naruto, Dr. Stone, and One Piece. The Shonen Jump app allows you to read up to 100 chapters per day for free. If you want to read all, you'll have to pay a fee. Mangas in the app are always updated as new chapters are added. It's a great app indeed.
5. Manga by Crunchyroll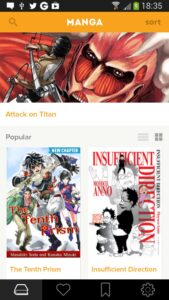 Crunchyroll is a company that is known for the largest library of manga comics. The anime brand helps fans from all over the world too have access to manga and anime comics. The app boasts of a large collection of manga comics which are organised according to themes. This makes it easy to navigate. There are even vintage mangas included. It mangas are arranged in sections like Popular, Updated and Promotion sections. Mangas are updated after about one hour they are published which is commendable. You also have access to Crunchyroll Originals.
Rounding Up…
Mangas are fun to read and it is such a great opportunity to have your smartphone bring it closer to you. These apps bring the fun from Japan to anywhere you are. We hope you found this helpful? If you did, kindly leave a comment and don't forget to share…