Linux is an operating system that is at the core of heavy-duty servers, mining computers, and IoT devices. That said, there is a great demand for Linux professionals. So if you're looking to get into Linux, or you want to advance your skills in it, then a course on Udemy may be right for you. Udemy has comprehensive and well as specialised courses for the Linux operating system. There are also courses targeted at beginners as well as advanced users. In this guide, we present the best Linux courses on Udemy.
Complete Linux Training Course to Get Your Dream IT Job 2022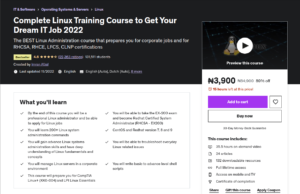 With this course, you not only learn the fundamentals, it also gets you prepared for corporate jobs and certifications like RHCSA, RHCE, LFCS, CLNP. The course is created to give you a thorough understanding of Linux while improving your Linux system administration skills. In the course, you will learn more than 200 Linux administration commands. You will learn how to manage Linux servers effectively. Also, the course teaches you how to troubleshoot everyday Linux issues. What's more? The course will instruct you on how to write basic to advance level shell scripts.
2. Linux Mastery: Master the Linux Command Line in 11.5 Hours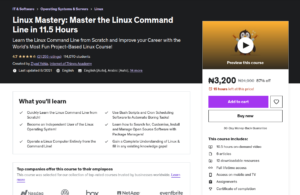 This course is one of the best Linux courses on the Udemy market. The course will teach you the Linux Command-Line right from the fundamentals. It uses a project-based approach to prepare you for real-world problems. The learning experience of the course is immersive. The instructor teaches you with both CLI and GUI, so you can have a grasp of both worlds. With the course, you will know how to install softwares on Linux. Not only that you will be taught on how to work with the Command Line. There are also lessons on Bash Scripts and Cron Scheduling that automate Boring tasks.
 3. Learn Linux in 5 Hours / 5 Days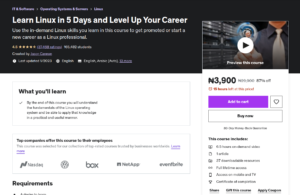 Learn Linux in 5 Hours is a Linux course that teaches you Linux without wasting much time. The course is created by Jason Cannon, and will lecture you on the relevant skills for working professionally with Linux. The lessons are practical and can be applied to read-world problems. Aimed at beginners, the course is taught in a simple way and can be understood by anyone getting into Linux. You'll learn about the major commands and operations. Each topic is wide and covers concepts that are applicable in the real world. There are also lots of exercises to help you reinforce knowledge.
4. Linux Shell Scripting: A Project-Based Approach to Learning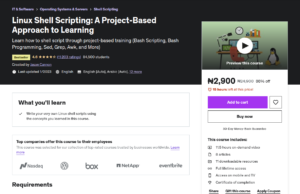 If you're interested in learning Linux Shell Scripting, then this course is for you. In this robust course, you will learn shell scripting like bash scripting, Grep, Sed, Awk, and also bash programming. The course does a good job at teaching you how to write actual shell scripts that can be applied to real-world problems. At the end of the course, you will be able to create variables in your scripts and utilise the permissions on shell scripts. The course teaches you about cryptographic hash functions. With this course, you should be able to report CSV files, generate strong passwords, control all types of input & output, and more.
5. Linux for Network Engineers: Practical Linux with GNS3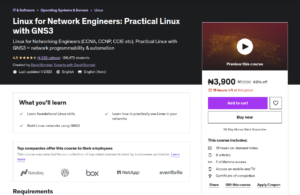 Whether you are a network engineer, or architect, you will find the course useful. The course focuses on the networking aspect of Linux. If you're into networking, or you wish to learn about it, you can enroll. Since network operating systems are based on Linux, you will need a course that teaches you the basic as well as advanced concepts. In the course, you will learn various GNS3 topologies. You will also learn various network automation tools, IoT devices, DevOps, SDN controllers, and other network tools used for networks. You will learn from real-life examples of global companies like Cisco, Cumulus Linux and Arista.
Rounding Up…
Linux may not have much rave like Apple's macOS or Windows, but it is certainly powerful. The demand for Linux professionals is high, and if you want to position yourself an expert, you have to improve your skills. We hope you found this guide helpful? If you did, kindly leave a comment and don't forget to share…