What's a smartphone without a keyboard? It's simply not complete. You will need to input text, numbers and symbols with a keyboard. The use of a keyboard is obvious but can be an issue if you don't have a solid and capable keyboard on your Android smartphone. There are tons of keyboards on the Google Play Store with each promising exciting features but many do not live up to these promises. This is why we have rounded-up the best Android keyboard. Let's dive right in…
Gboard
Gboard is Google's answer to the best keyboard app for Android and it does the job amazingly well. With accurate predictions, sticker packs and sync features, you can enjoy this keyboard without restraints. Gboard boasts of a dictionary tied with your Google account and you can have this dictionary on any device you use. All these it packs in a free offering which works on virtually any Android device. You don't get any paywalls or ads. It is designed with Material Design with varieties of colours and themes
2. Typewise Keyboard
Typewise Keyboard is an innovative offering with a creative layout. The honeycomb layout is one that prevents typing errors by 80% according to Typewise. With this hexagon approach, you will be able to tap the right keys with minimal errors. It boasts of the really neccessary features like autocorrect, intuitive gestures and more. You can use the keyboard in multiple languages without switching keyboards.
3. Go Keyboard
Go Keyboard has been here for ages. It is a popular choice among users that have been on the Android operating system for a long time. With a rating of over 4.5 on the Google Play Store, it is a solid options. The keyboard boasts of over 100 fonts including Toshiyana and Basileia. It even has tons of emojis and emoticons great for better expressions in conversations. The keyboard is one of the most customisable keyboards around. You can choose photos from your gallery to beautify your keyboard.
4. SwiftKey
SwiftKey is another keyboard that is great for Android. It is a solid contender to Google's Gboard. The keyboard boasts of great features that can making typing easier, faster and more accurate. It features excellent text prediction that does the prediction job accurately. There's the swipe-to-type feature for faster typing. What about auto-correct? It's great on SwiftKey also. You also have themes in the app that can spice up the keyboard look. What's more? SwiftKey supports over 400 languages.
5. Fleksy Keyboard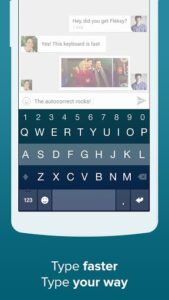 Want a fun and customisable keyboard, look no further than Fleksy Keyboard. The keyboard has highly customisable keyboard sizes with tons of feature for more efficiency. It features gesture typing for smart and faster typing. Not only does it have a these, there's also a GIF keyboard for better expressions. The customisation tools can let you have a number row on top and you can do tons of other things with it.
Rounding Up…
An excellent keyboard can make the difference between accurate typing and texts full of typos. You don't want your words to always be rid with error when you can get a solid keyboard. The apps listed here will help you get the best typing experience on your Android device. We hope you found this helpful? If you did, kindly leave a comment and don't forget to share…