Eye strain is of growing concern because we live in a time when we are either looking at a desktop screen or a mobile screen. And doing this for a long time can lead to headaches, blur vision or eye problems. Which is why it is important to control the intensity of light coming into our eyes from our monitors or taking regular breaks from our computer monitor. In this guide, we cover 5 best eye care apps for Windows.
1. Iris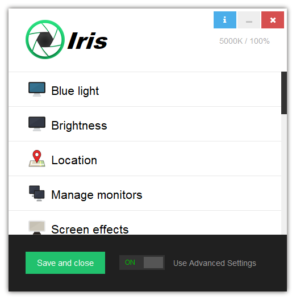 Iris is a powerful eye-care software available for Windows and other platforms. What the app does is that it adjusts the color temperature of your screen. Most sources of light you're used have safe temperature unlike the newer LEDs and CFLs which are used on monitors. For example, incandescent bulbs become red in tone when you reduce their brightness. Even natural is more blue, and candle light is warmer. But in the case of LEDs and CFLs, their temperature can be dangerous to the eyes. Iris will also change your display brightness without the any issue of PWM flickering.
2. Redshift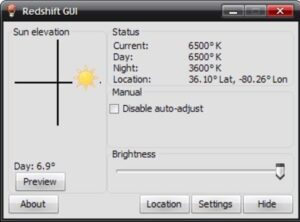 Redshift is great app for adjusting color temperature. It does this based on the position of the sun. The color temperature for daytime and night time are not the same and are set differently. At night, the color temperature should be at the temperature of the lamps in your room. In the early mornings, the color temperature is adjusted with smooth transitioning from the night temperature to the required daytime temperature. During the day, the color temperature is set to align with the temperature of outdoor light.
3. Awareness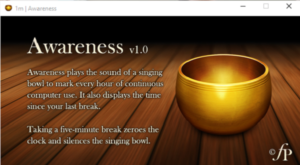 Another app that helps your eyes is Awareness. The app works by helping you take breaks thereby shielding your eyes from constant exposure to screen light. It allows you to set things up yourself. You have to set the time you have for uninterrupted work and the time duration for the breaks you wish to have. It is not intrusive. When the time you set for work is up, Awareness plays a steady tone of the Tibetan singing bowl to get you up from your computer for the set time of break. And even if you don't get up, it monitors your app usage so that you can know how long.
4. F.lux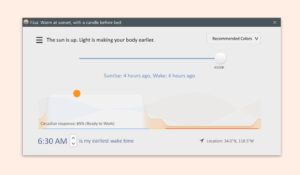 F.lux is an app many people have used to protect their eyes from strain and it is one of the best apps for eye care for Windows. The app not only adjust brightness of your display, but also tint and it does this according to the time of the day. People have reported that it makes them go to bed on time, thanks to the dim glow. The F.lux solution has some research to it which you can check out. It an easy app to install also.
5. LightBulb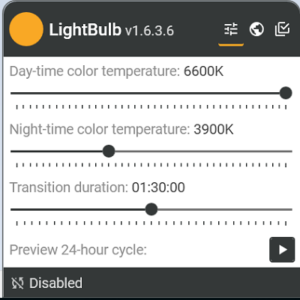 LightBulb is a very impressive app that shields your eyes from eye strain. It is very useful at late hours. LightBulb aligns the color temperature of your display to the environment around. It works by adjusting gamma, and changing the color temperature of your screen from blue (in the afternoon), to yellow (during the day). LightBulb is not heavy on the computer resources and it boasts of extensive customisation features.
Rounding Up…
You may not realise it, but your eyes health is a part of your overall body health and it is important to take good care of your sense of vision. You may not be so disciplined to take regular breaks from your computer, but these apps can help you in many ways. We hope you found this guide helpful? If you did, kindly leave a comment and don't forget to share…