5 Best Email Apps for Android 2021
The coming of the internet brought about a bunch of services that has helped the digital world. As there are more and improvements in technology, there's has also been innovation. Email is one of the oldest services that came with the advent of the internet and is still widely used. Whether it is for work or personal life, emails help us communicate effectively. In this article, we highlight 5 best email services for Android.
1. Gmail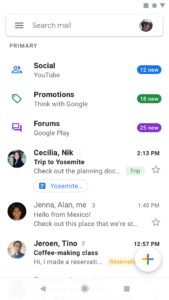 Most Android device come with Gmail as a default app. It is part of Google suite of product and if you're into Google, you'll find it easy to have their email service as part of your Google ecosystem. You can use multiple accounts on the app and it is easy to organise things on the app. You can enable the automatic filters to shut out social notifications and spam mail from your inbox. Also, it is possible to set rules for incoming mail and automate them to be sent into folders. There's also support for IMAP and POP email accounts and Exchange. The app is always constantly updated with new features like Undo Send feature, and ability to turn off conversation view mode.
2. Outlook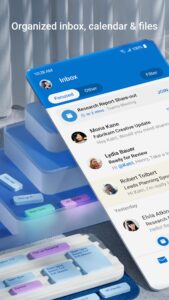 If you want an alternative to Gmail, then you can try Outlook. Outlook in the past was not a nicely designed email service, but not anymore! The app is now beautifully designed with user-friendly interface. The great thing about Outlook is that it works with a variety of other services like Microsoft Exchange, Office 365, Gmail and Yahoo Mail. Windows users will especially find the email service useful because they can use their Windows account to access Outlook. There are some drawbacks about the app though. One biggest one there is that it is not possible to send a picture as an attachment. You'll have to include the photo inside the email message itself.
3. BlueMail
For a free email client, choose BlueMail. It also comes with a business plan that goes for $4.49 per user a month. Not only does it work on Android, but also on other major platforms. It allows you to sync email inboxes from the various email services you use. It also has support for IMAP, POP3, ActiveSync, EWS, and 365, among other protocols. Your inbox can be sorted by priority, all thanks to the tasks feature. BlueMail organises conversation into clusters which makes for effective productivity. It equally allows you to share mails both publicly or privately. The app is easy to navigate and you easily find accounts easily. It includes a calendar which is simple and easy to navigate.
4. ProtonMail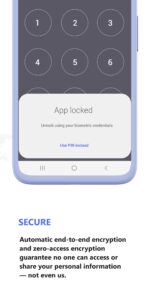 If you prefer a security-centric email app, then Proton Mail is your best bet. It is heavy on security and has features to get your mails password-protected. Proton Mail puts security first and is useful for users who have that mindset too. ProtonMail is a simple app. With just five buttons, you can navigate your way through the app. It's simple interface makes sending emails fast and removes distractions. Because of the heavy security ProtonMail attaches to mails, recipients of your emails are forced to view the emails in new tabs outside their inboxes. Emails you send are always encrypted and ProtonMail can't read them.
5. K-9 Mail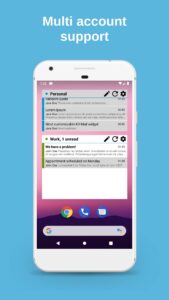 K-9 Mail is another mail app that is free. The open-source email app has a simple interface. K-9 Mail has support for POP3, IMAP, and Exchange 2003/2007 accounts. Not only is the app simple, it is also lightweight and functional. The app boasts of important email features like: multi-folder sync, BCC-self, IMAP push email, flagging, PGP/MIME, and more. It's open source nature can enable you contribute to its development on GitHub.
Rounding Up…
More than ever before, emails are now popurlarly used to send cover letters, business letters, and other official letters. Depending on what you prefer, you'll want an email service that's reliable and has all the features you need. This article highlighted 5 best of them. Which would you pick? Let us know in the comment section. Please don't forget to share this post.
You can also check out
How to Enable Dark Mode on Telegram
How to Download Music from Spotify
Best Keyboard Apps for Android
Top 5 Best Web Browsers for Android
Top 5 Best Music Player Apps for Android
Top 5 Best Alarm Clock Apps for Android
Top 5 Best eBook Reader Apps for iPhone and iPad
Top 4 Best VPN Apps for iPhone and iPad
Top 5 Best Apps for Monitoring Data on iPhone and iPad
Top 5 Best Translation Apps for iPhone and iPad
Top 5 Best Alarm Apps for iPhone and iPad
Top 5 Best Calendar Apps for iPhone and iPad
Top 5 Best Photo Editing Apps for iPhone and iPad
Hope with this, you have learnt the 5 Best Email Apps for Android 2021.
Please share and like below, also comment below for any problem faced or encountered.