Emails are a standard way of communicating. With emails, you can send a cover letter, or an attachment and have conversations with your recipient.
Nowadays we are faced with various websites requesting that we provide our email address and we end up getting spammed with messages. This can make our inbox messy.
However, with disposable emails, you can give websites or your contacts an email address that isn't real and can be disposed. In this article, we show you 5 disposable emails services you can use in 2022.
1. 10 Minute Mail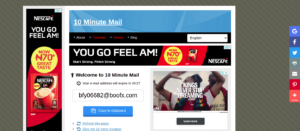 10 Minutes Mail packs a good number of features that makes it one of the best on the market. Disposable mails created with the service can expire in 10 minutes.
You don't have to bother about the emails  in your inbox, they will be deleted once the timer runs out. The service generates your email, and then you can enter your message.
If you'll need to access a verification link from sites that send it, 10 Minute Mail got you covered. You can reply with your disposable address. 10 Minutes Mail also does not ask for your personal information, so you are safe.
2. EmailOnDeck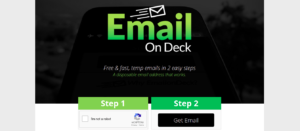 Just like 10 Minute Mail, EmailOnDeck is also simple to use. You only need to supply a CAPTCHA and then click the Get Email botton you have a disposable email address up for use. You'll see your incoming message in your web browser.
With those few steps, you can create an email address anytime you wish. The service will delete your messages every few hours automatically, but you'll still have access to you email address for some time.
3. E4ward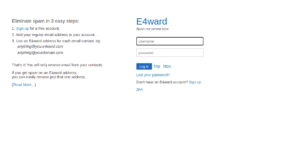 E4ward is a great disposable email solution. With it, you can avoid spams in your real email inbox. It does this through erasable aliases.
You'll have to create a different public email address known as alias which will be linked go each of your contacts. When an email is sent, each alias forwards to your real email address. Should there be any spam, you can delete it and set up a new alias to the account.
4. GuerrillaMail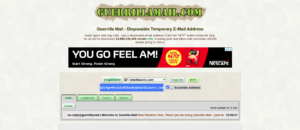 With GuerrillaMail, you have a wonderful solution for disposable emails. The service allows users to click verification links. It is also capable of deleting mails.
One great thing about it, is that it removes spam before they get to your inbox. Incoming mails are made available for one hour after which they are deleted. GuerrillaMail can keep your generated addresses with them expire.
GuerrillaMail is an open-source service and is secured with HTTPS encryption.
5. Maildrop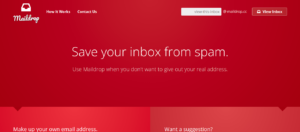 To use Maildrop, you'll need to go to the website and use the template.  Get a new disposable email address by entering your preferred inbox name. You can give anyone that email and when you need to view messages. You can then come back to Maildrop, and click the View Inbox button to view them.
Although you may want some privacy with your emails, but Maildrop doesn't give that. Anyone can enter your Maildrop email address and view your inbox.
Rounding Up…
Emails are powerful but they can also be a pain in the neck. Having a lot of spam messages in your inbox is not a good sight to behold, that's why a disposable email can prove useful. This guide provided you with 5 best disposable email services. We hope you found it helpful? If you did, kindly leave a comment and don't forget to share.