Essentially, you use your smartphones to make calls. Sure, they can do a lot of other things, but the long-known use is to make calls. Your Android has a default dialer that came with it, but beyond that, you can install a third-party dialer that will open you up a wide range of features that can enhance your calling experience. In this guide, we explore the 5 best Dialer Apps for Android 2022.
1. Dialer


Dialer is a great app to begin with on this list. The app is an iOS-styled app that offers great features and is heavy on customisation. In fact the interface of the app looks like that of iOS. There's the quick-dial feature which offers a quick way to call people. The app also will save your call history. Dialer also boasts of a number blocker which you can use to prevent annoying calls. Coming to Privacy, Dialer also focuses on Privacy. It does not request for unnecessary permissions. Dialer is heavy on customisation. You can tweak the icon, background color and text to look the way you like.
2. True Phone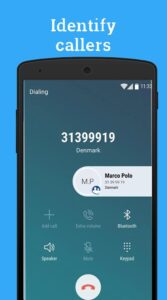 Another great app for dialling numbers for calls is True Phone. The app boasts of many useful features which makes calling easier. There's provision for managing contacts and you can add other details to contacts like birthdays. You can even add a photo that will always show when you're making a call with a person. There are also customisation features. You can set a theme from the seven different themes that are available. You can also access your recent calls, contacts with just a tap.
3. Dialer by Simpler
Dialer by Simpler is a robust app with a lots of features. The app can do a lot of things and it does it well. The app offers a simple and intuitive interface. Dialer by Simpler boasts of a call blocker, address book, contact manager and more. The spam caller helps you block unwanted calls. There's also a T9 dialer that will help you search contacts quickly. You can change the theme from an array of 40 themes. Now, that's a lot. Dialer by Simpler can be used in 15 different languages invoicing English, Italian, Deutsch, making it one of the most versatile apps
4. Drupe
Drupe is another dialer all but this one is very good-looking which makes it stand-out from others. Drupe overlays dots on your screen which you'll see in whichever app you're in. With those dots, you can access the Drupe  app easily on any app you are. Drupe also boasts of a caller identity feature so you can know who called you at each point in time. You can get all these features and more for free. But you can also make use of the Pro Version which comes at a cost, but has features such as Driving Mode which ensures that there's no harm while you're driving.
5. Contacts+
Contacts+ is another interesting app that can be used as a dialer. The app has a host of functionalities that are useful for your phone. In it, you have a dialer, SMS functionalities, caller ID, and spam blocker. The app lets you get access to your contacts and call them without waste of time. It also has the ability to prevent calls that are from telemarketers and robocalls.The app is also customisable. You can make it more beautiful with themes.
Rounding Up…
Dialer apps can be very handy when you need more features than the default app that comes with your Android devices. You are able to do more with it and enjoy better experience. We hope you found this helpful? If you did, kindly leave a comment and don't forget to share…