5 Best Cloud Storage Apps for iPhone & iPad 2021
With the coming of cloud storage came changes in the way we work with files. Gone are the days when we only had to depend on physical storage devices which could crash, get damaged or corrupted, now we have a better solution. Cloud storage saves your files on online servers that can be recalled for use later. One advantage of this is that it allows you to access files from different devices. In this article, we explore the 5 Best cloud storage apps for iOS.
1. iCloud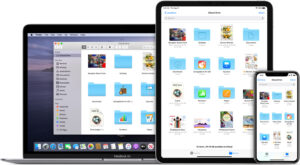 You can trust that you already have iCloud on your iOS device as it comes pre-installed on iPhone and iPads. iCloud is a great app for saving files to the cloud. If you're Apple-centric, then you may feel comfortable using the platform. A drawback though is that it is not versatile for people who switch platforms like between computer and smartphones. You don't get the top features that you'd want to see in a cloud storage app. For example, It doesn't have the in-document searching, document editing that you'll see on other apps. iCloud is excellent at refresh speed. You will literally see the files you sent on your Mac within seconds on your iPhone.
2. Google Drive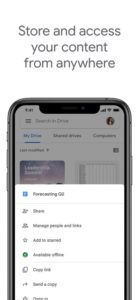 Google Drive is one of the top apps when it comes to cloud storage for iOS. If you're into the Google ecosystem, then this is your best bet. It offers a free 15GB storage which is great compared to what other apps offers. The 15GB free storage will also account for your Google Photos files and other Google services. If you want to get more features, you should upgrade to Google One which grants you access to 100GB of storage for $19.99 per year. With Google One, you even have other benefits like ability to share the storage with up to 5 people.
3. Dropbox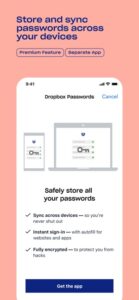 When it comes to the popular choice regarding cloud storage, Dropbox easily wins. The platform is loaded with many useful features that makes it a top choice for users. For example, it allows you to recover deleted files which is really handy. Dropbox is available on virtually all platforms so you have cross-platform capabilities. It integrates well with many services including 1Password. You have at your disposal 2GB of free storage but for an upgrade of 1TB, you pay $11.99 per month or $19.99 per month for 2TB.
4. Box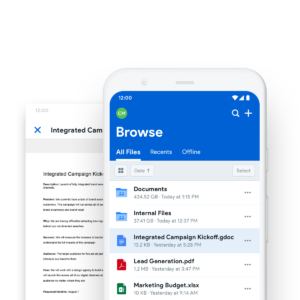 Yet another great cloud storage option, Box is a capable cloud storage apps for iPhone. The app offers feature like seamless integration with file explorer apps. When you register on the platform, you get a free 10GB cloud storage space which is decent. It also has plans for business which are affordable. Printing directly from Box is also possible and you have many sharing this options that you can make use of. Box boasts of support for over 200 file types which makes it a versatile app.
5. pCloud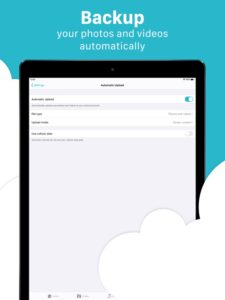 The pCloud app is a great cloud storage app for iOS. The app works well with most of iOS features making it a solid iOS app for storing to the cloud. iOS features like AirDrop and AirPrint are two of the many handy features that the app supports. It also boasts of top-notch security features. The syncing feature is just superb. It delivers fast real-time syncing across devices. You can use two different methods of uploading files to pCloud: manually or automatic upload. This is very useful as you don't have to manually upload files in the case when your phone storage fills up.
Rounding Up…
When cloud storage technology arrived, we witnessed an explosion in cloud storage services. Cloud storage apps have features in common but the best also have some special qualities that makes them standout from the rest. This review highlights the top 5 of them. We hope you found this helpful? If you did, kindly leave a comment and don't forget to share.
You can also check out
How to Enable Dark Mode on Telegram
How to Download Music from Spotify
Best Keyboard Apps for Android
Top 5 Best Web Browsers for Android
Top 5 Best Music Player Apps for Android
Top 5 Best Alarm Clock Apps for Android
Top 5 Best eBook Reader Apps for iPhone and iPad
Top 4 Best VPN Apps for iPhone and iPad
Top 5 Best Apps for Monitoring Data on iPhone and iPad
Top 5 Best Translation Apps for iPhone and iPad
Top 5 Best Alarm Apps for iPhone and iPad
Top 5 Best Calendar Apps for iPhone and iPad
Top 5 Best Photo Editing Apps for iPhone and iPad
Hope with this, you have learnt the 5 Best Cloud Storage Apps for iPhone & iPad 2021.
Please share and like below, also comment below for any problem faced or encountered.