If you're the type that loves biking, hiking, sky diving, and other similar activities, you'll surely need an altimeter. An altimeter provides you with your height of elevation above the ground. It is an important data to know so you don't go above altitudes that can result in difficulty in breathing. In this guide, we cover 5 best altimeter apps for Android.
1. Accurate Altimeter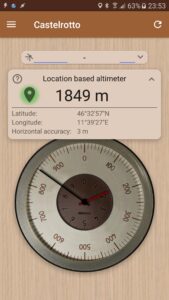 Accurate Altimeter by AR Labs is a powerful app that acts as an altimeter. The app can provide altimeter measurements even if you're offline. It has a nice interface and is easy to use. The app relies on three method to get altitudes even without an internet connection. Accurate Altimeter gets your elevation and contour line and then locates the elevation from any point on the map. It also works with your historical chart to get the data of your excursion elevation gain.
2. GPS Tools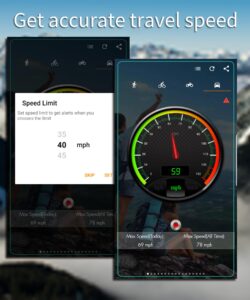 GPS Tools is a robust app that boasts of an altimeter, speedometer, compass and more. It is a popular app used by hikers and trekkers. You'll get location data from the app with precise accuracy. It also has the sharing feature which you can use to share location address, coordinates and more with others. The app is good when you're camping of trekking. You can even save distances or altitudes you find for future purposes.
3. Barometer & Altimeter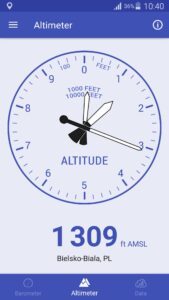 Barometer & Altimeter is a decent app for measuring altitudes. The app provides accurate altitude by using your phone's barometer. It does this by detecting pressure from the nearest meteorological station and using it to inform your altitude. This means it is very dependent on the kind of hardware you have. The app helps during various activities like trekking, camping, fishing and more. The app also works with your GPS to provide location data.
Download Barometer & Altimeter
4. Altimeter Ler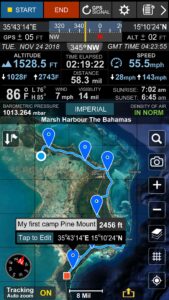 Mountain bikers, hikers and anyone who needs altimeter will find the Altimeter Ler app very useful. Bundled in the app is an altimeter, a compass, and a tracker. The measurements are mostly gotten from your GPS. The app also features a real-time orientation feature. This means you can adjust the magnetic to the true one and vice versa. Altimeter Ler also tells you the weather conditions and information related to temperature, wind, sunsets, and sunrises.
5. Altimeter Offline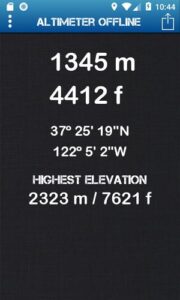 If you want an altimeter app you can use without internet connection, them Altimeter Offline is the app for you. There are chances that there won't be internet connection in areas like the seaside, mountain areas, and so it will be necessary to have an offline altimeter in these areas. Altimeter provides you with accurate elevation measurements. Whether you're going mountain biking, sky-diving of cross-country skiing, Altimeter Offline will serve you.
Rounding Up…
Having the right tools can make a difference in any sporting activity. Because an Altimeter is necessary in a activities like sky diving, and trekking, it is important you have a capable app for it and we just provided you with them. We hope you found this guide helpful? If you did, kindly leave a comment and don't forget to share…